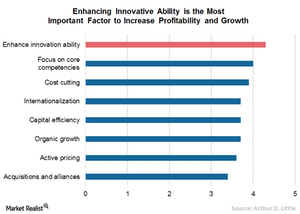 How Has Technology Influenced Process and Product Innovation?
By Rick Rieder

Mar. 9 2016, Updated 9:04 p.m. ET
Technology is changing the world in ways never before witnessed. U.S. consumers are adopting new technologies such as smart phones at the fastest rate since the advent of the television, and this is resulting in the widespread use of app-based innovations that arguably enhance productivity, but are unaccounted for in official data. Just one example: free apps that allow us to learn a language or check road conditions.
Article continues below advertisement
At the same time, new technologies are also bringing greater efficiencies to businesses at lower cost. Think cloud-based computing, energy-sector fracking, the sharing economy, improved data storage, enhanced computing power, developments in robotics and inventory management systems, which enable asset-light business models and drive down the cost of corporate investment. An area where this greater efficiency is showing up: lower inventory levels. Approximately one-fifth of the largest 1,500 U.S. companies by market value now have zero inventories, up from 5 percent in 1980, according to Morgan Stanley data.
Statisticians try to factor in such improvements by tweaking price deflators. Yet I believe such deflators still understate quality improvements — and, therefore, true productivity. In short, they don't fully account for technology's downward influence on price.
Market Realist – When technology made asset light the right business model
Technology (IGM) (VGT) has revolutionized the way companies conduct business. One of the most prominent effects of technology is on the asset side of the balance sheet, as many technologies drive companies to employ fewer assets compared to the competition in order to generate higher returns. Technology helps companies maintain lower inventories as well in order to minimize operating costs. This phenomenon is visible not only in the industrial (ITA) sector but also in the services sector.
Article continues below advertisement
Productivity benefits are most visible in the education and healthcare sectors. Expansion in these sectors typically involves setting up costly infrastructures with new buildings and employees. In the education sector, online courses allow an expert to do the work singlehandedly that was previously done by many. Additionally, online courses can be offered to many students around the globe at a negligible cost. Similarly, in the healthcare sector (IHI) (IHE), innovative intelligent technology can be of tremendous help for the diagnosis of patients. Technology allows a doctor to diagnose multiple patients more effectively at a lower cost.
Such advances in technology and automation by companies help improve productivity while reducing costs. However, these benefits are not accounted for in any of the traditional productivity and consumption measurement metrics. No wonder the fall in productivity growth, as represented by the traditional measurement metrics, coincides with an acceleration in technology, robotics, and machine intelligence.