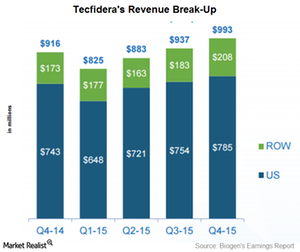 Tecfidera Raised Its Share of Contribution to Overall Revenue
By Peter Neil

Updated
Revenues from Tecfidera
Tecfidera is one of the major drugs in Biogen's (BIIB) strong portfolio of multiple sclerosis treatments. Tecfidera is an oral therapy approved in the United States for the treatment of relapsing multiple sclerosis. The other players in this arena include Copaxone from Teva Pharmaceuticals (TEVA) and Glatopa from Sandoz, a Novartis (NVS) company.
The below graph reflects the revenue breakup of Tecfidera since 4Q14.
Article continues below advertisement
Tecfidera's revenue dropped in 1Q15 compared to its revenues in 4Q14. Since then, it has been recovering and showing a positive trajectory on a quarter-over-quarter basis. In 4Q15, Tecfidera's global revenue stood at $993 million compared to $916 million in 4Q14, an increase of ~8.4% on a year-over-year (or YoY) basis. For fiscal 2015, Tecfidera's revenues totaled $3.6 billion as compared to $2.9 billion in 2014.
Tecfidera's 4Q15 revenues include $785 million in the US market and $208 million from outside the US market. The US market grew 6% YoY and 4% quarter-over-quarter. The US revenues benefited from an increase in wholesaler inventory by ~$30 million during the quarter. The rest of the world (or ROW), which primarily comprises Europe, witnessed a growth of 20% YoY and 13% quarter-over-quarter. The revenues in Europe showed solid growth in the UK, Italy, and Spain.
For fiscal 2015, Tecfidera's revenues from the US markets were $2.9 billion, and the ROW markets contributed $730 million.
Outlook
Biogen expects the demand for Tecfidera in the US to remain stable, and it doesn't expect a price increase in the US. As shown in the graph, Tecfidera's ROW market share is increasing gradually, and Biogen expects good growth in Europe. Tecfidera is currently the most frequently prescribed oral MS therapy worldwide and is the most frequently prescribed of all MS therapies in Germany, France, and the UK.
The SPDR S&P 500 ETF (SPY) holds 0.35% in Biogen while the iShares NASDAQ Biotechnology ETF (IBB) holds ~7.6% of its portfolio in Biogen.