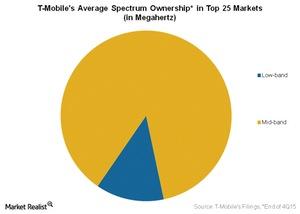 Where T-Mobile Stands Now with Low-Band LTE Coverage and Spectrum Holdings
By Ray Sheffer

Updated
T-Mobile's low-band spectrum holdings
So far, we've talked about T-Mobile's (TMUS) plans to expand its marketing footprint in the 2016–17 period and about the carrier's 4G LTE (long-term evolution) network in 2015. During its 4Q15 earnings conference call on February 17, 2016, John J. Legere, T-Mobile's Chairman and Chief Executive Officer, talked about the company's deployment on the low-band spectrum.
In the conference call, Legere stated that T-Mobile's "deployment of extended range LTE on 700 megahertz A-Block spectrum is way ahead of schedule," specifying that "more than 300 markets are live, covering approximately 190 million people." Here, it is worth noting that the deployment on this low-band spectrum spanned ~175 million people and 204 markets as of October 27, 2015.
Article continues below advertisement
Additions to low-band spectrum holdings
In the US wireless space, Verizon Communications (VZ) and AT&T (T) have significant holdings in low-band spectrums. T-Mobile (TMUS) and Sprint (S), by contrast, do not have such large holdings in these coverage spectrums. But T-Mobile continues to add low-band spectrum holdings. T-Mobile had low-band spectrum holdings in the 700 MHz A-Block spectrum spanning ~190 million people as of October 27, 2015. As of February 17, 2016, this figure had increased to ~210 million people, and it claims that it has signed agreements to acquire holdings spanning ~48 million people in the first two months of 2016.
Instead of taking a direct exposure to T-Mobile's stock, you might consider taking a diversified exposure to the telecom company by investing in the PowerShares QQQ (QQQ), which had ~0.6% of its holdings in T-Mobile at the end of December 2015.
Keep reading for our analysis of T-Mobile's customer retention relative to its low-band coverage.