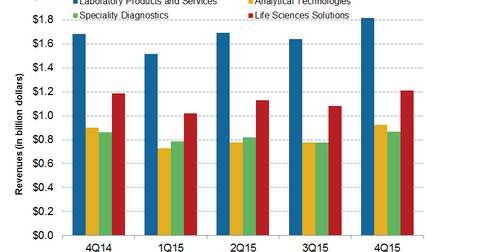 How a Strong Product Portfolio Drives Thermo Fisher's Valuations
By Sarah Collins

Updated
Strong Laboratory products and applied markets business performance
Thermo Fisher Scientific (TMO) registered sales of $4.7 billion, representing year-over-year growth of 4% in 4Q15 and fiscal 2015 sales of ~$17 billion. The laboratory products and services segment is the largest. It registered the highest year-over-year revenue growth of ~8% whereas the Applied Markets business segment grew ~3% in 4Q15. The laboratory products and services business saw significant margin expansion. This growth was driven by improvements in productivity and efficiency but partially offset by strategic investments for segment growth.
Article continues below advertisement
Applied market segment sales growth was led by the strong performance of the mass spectrometry and chromatography business. In the applied markets segment, Thermo Fisher launched a number of breakthrough products in 2015. One of these products is Q Exactive Focus LC/MS, which is used in food and environmental analysis and toxicology.
Some major competitors of Thermo Fisher offer competitive products in the laboratory products and services and applied market segment, like Becton Dickinson (BDX), Medtronic (MDT), and Baxter International (BAX). The iShares U.S. Medical Devices ETF (IHI) is a focused ETF with exposure to the medical device industry. It invests 8.9%, 5.9%, 15.7%, and 4.5% of its total holdings in TMO, BDX, MDT, and BAX respectively.
Life Technologies acquisition
Thermo Fisher Scientific acquired Life Technologies in February 2014 and established Life Sciences Solutions group, comprising Life Technologies' legacy business and Thermo Fisher's Biosciences business. This move helped the company establish itself as the second-largest player in the genetic sequencing market and expand its portfolio of products and services. In 2015, the acquisition resulted in cost synergies of approximately $130 million and revenue synergies of around $90 million. The life sciences solutions segment registered organic growth of around 5% in 2015.
Strong balance sheet
Thermo Fisher Scientific had taken on significant debt for its Life Technologies acquisition in 2014. The company's leverage ratio has come down to three times its total debt to adjusted EBITDA.
The company generated significant cash flows in 2015. which it deployed through a share repurchase of $500 million and through $240 million in dividend payments. The company also made two complementary acquisitions—Advanced Scientific, which strengthened its bioproduction segment, and Alfa Aeser, which strengthened its chemical business.