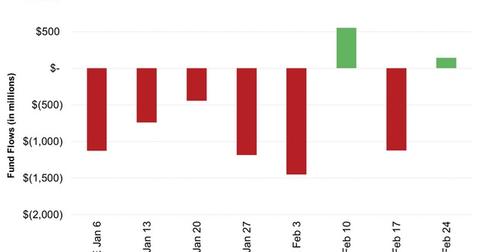 Should You Stay Invested in Investment-Grade Bond Mutual Funds?
By David Ashworth

Updated
Investment-grade bonds
Investment-grade bonds include both Treasuries, which don't need credit ratings, and bonds issued by corporates, which are considered to be high quality given their credit ratings.
Several investment-grade bond mutual funds retain the flexibility of assigning assets to Treasuries and high-grade corporate bonds as they see fit. During stable or favorable economic conditions, fund managers can take higher exposures to corporate bonds in order to get those extra yields.
During times of trouble, on the other hand, they can stay invested in the safety of Treasuries, with just small amounts invested in very high-quality corporate bonds.
Article continues below advertisement
Should you stay invested?
The graph above displays weekly fund flows to investment-grade bond funds. Except for a couple of weeks, investors have taken money out of these funds in year-to-date (or YTD) in 2016. There could be two reasons for this:
seeking the safety of Treasuries
managing duration
There are a few funds out there such as the Putnam Income Fund Class A (PINCX) that are majorly invested in corporate bonds. Given the volatile times, all types of investors may not be comfortable with this kind of allocation. Those who remain invested in funds with higher allocations to corporate bonds need to be patient. Better economic and credit conditions should reward their patience in the medium-term.
45% of the Vanguard Total Bond Market Index Fund Investor Class's (VBMFX) assets are invested into government-related entities, while 27% are invested into corporate bonds. This includes debt issued by Verizon Communications (VZ), Goldman Sachs Group (GS), Cisco Systems (CSCO), and Home Depot (HD), among several others. Another investment-grade bond mutual fund with lower exposure to corporate issues is the TIAA-CREF Bond Index Fund Retail Class (TBILX).
Keep a check on duration
While average maturity gives you an idea of the time in which a bond fund's principal would be repaid, duration gives you the interest-rate sensitivity. Higher duration bond funds are more susceptible to changes in interest rates compared to their lower duration peers.
You may choose a fund depending on your time horizon. Longer duration actively managed funds may not be completely off the table if you have a long investment horizon, as the income generated from them has the potential to make up for the fall in prices during a rising interest rate environment. Mutual funds such as VBMFX and the Janus Flexible Bond Fund Class A (JDFAX) have more than half of their assets invested into bonds with maturities up to ten years.
After looking at investment-grade bond mutual funds, let's review how things have been for their much riskier cousins, high yield bonds, in the next article.