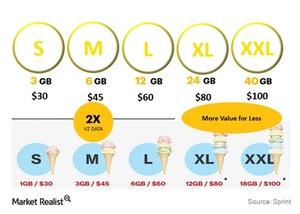 Why Sprint Is Choosing Verizon's Better Choice Plan
By Ray Sheffer

Updated
Sprint's Better Choice Plans
According to Sprint's (S) press release on February 18, 2016, "With Sprint Better Choice Plans, customers get unlimited talk and text while on the Sprint Network." Sprint's customers "simply choose the amount of sharable data and the number of lines needed for their family," and "when customers reach their monthly data allotment, they will get unlimited data at 2G speeds."
The press release also stated that, alternately, customers "can choose the automatic data buy-up option of $15 per GB of data, so they will never run out of high-speed data."
Article continues below advertisement
As the figure above shows, Sprint has provided a Better Choice Plan that is comparable to the Verizon (VZ) Plan. Note that the data buckets are bigger on Sprint's Better Choice Plans with respect to comparable pricing slots in the Verizon Plan. We should also note that at the $30 monthly option, the Verizon Plan has 1 GB (gigabyte) data allowance that can be shared while Sprint's Better Choice Plan has 3 GB of shareable data.
Sprint's postpaid additions versus peers
Sprint remains aggressive in acquiring postpaid customers in a saturated US (IVV) wireless space. Among the top four US wireless carriers, Sprint's postpaid additions were relatively low in 4Q15. During the company's fiscal 3Q15 (calendar 4Q15), on a net basis, Sprint's platform added ~501,000 postpaid customers.
By comparison, AT&T (T) had ~526,000 postpaid net additions in its domestic wireless operations during the quarter, and the postpaid customer acquisitions of Verizon and T-Mobile (TMUS) were significantly higher than the Sprint platform and AT&T's domestic wireless component in 4Q15. On a net basis, Verizon and T-Mobile's postpaid net additions were ~1.5 million and ~1.3 million, respectively, during the same quarter.
Continue to the next and final part of this series for a look at what AT&T pulled off in RootMetrics' 2H15 national results.