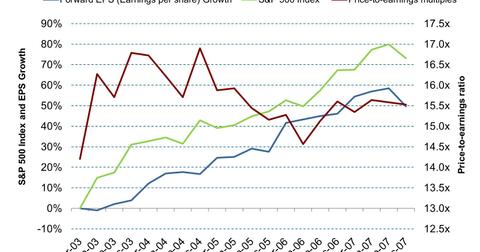 How Macroeconomic Factors Supported the 2003–2007 Bull Run
By Sarah Sands

Updated
The bull run from 2003–2007 
The commodity supercycle and growth in emerging economies (EEM) fueled market growth between 2003—2007. During this period, growth was based on strong macro fundamentals. Unfortunately, the demographics of developed economies force them to rely on emerging markets (IEMG) for any measurable growth. However, after the subprime crisis, things changed. Central banks are now stimulating growth with lower interest rates and quantitative easing.
Article continues below advertisement
Developed nations' (EFA) central banks have almost reduced their interest rates to near-zero levels to boost their economies or are undergoing runaway inflation in the midst of negative growth like Brazil (EWZ). Between 2003 and 2007, valuations rose 22% compared to 39% in the market run after the subprime crisis.
The bull run from 2003 to 2007 brought the S&P 500 Index to the 1,500 level. During 2004, forward price-to-earnings multiples rose to 16.9x from 14.2x during 2002. In the subsequent three years, valuations were in the range of 16.5x to 14.5x. This range was subdued compared to the preceding tech crash where the future valuation was around 25x. The chart below shows the valuations between 2011 and 2015.
Sector-wise performance since 2003
During the bull run phase between 2003 and 2007, most of the sectors of the S&P 500 Index performed (SPY) well. The energy sector rose 186%. The rise in the energy sector could be correlated to the rise in crude oil prices and the demand from growing emerging markets like China. Energy stocks led the way compared to other sectors like financials, healthcare, and technology.
In the next part of this series, we will look at valuations in the 2008 subprime crisis.