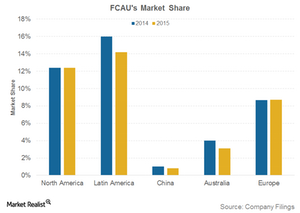 Slow Growth in Latin America and Asia Impact Fiat Chrysler
By Jitendra Parashar

Updated
Slowing growth in Latin America and Asia
As noted earlier in this series, Fiat Chrysler Automobiles' (FCAU) 2015 revenues were primarily driven by solid performance in the NAFTA (North American Free Trade Agreement) region. However, this was partially offset by the company's poor performance in Latin America and Asia-Pacific. The company reported sales declines of 30% and 16% in Latin America and Asia-Pacific, respectively. In this article, we'll look at some variables that negatively affected the company's performance in those regions.
Article continues below advertisement
Macroeconomic weakness
According to the company, auto industry demand (FXD) in the Latin American region was down by nearly 21% in 2015. Brazil and Argentina, once FCAU's strongest regions, were under pressure due to rising concerns of slowing economic growth. The company's shipments in the region were down by more than the industry average, by 33% to 553,000 units last year. This was attributed to the company's pricing actions to protect margins.
Declining market share and pricing pressures
FCAU's market share in the auto industry shrank everywhere but in the United States. The company was able to marginally increase its 2015 market share in the United States to 12.6% from 12.4% a year ago. In Latin America, the company's market share declined considerably to 14.2% last year from 16% in 2014. This was primarily due to strong competition in the region along with pricing pressures to save profit margins. Note that General Motors (GM), Ford (F), and Toyota (TM) have higher market shares in the United States than FCAU.
Concerns in China
The company's performance in China was disappointing. In China, FCAU's market share declined to 0.8% last year, against 1% in 2014. Despite a positive 8% sales growth seen in China's auto industry demand, the company reported a fall of 19% in its sales. Strong competition from China's local automakers and interruption of supply due to a Tianjin port explosion were the key factors that negatively affected FCAU's sales in the region.