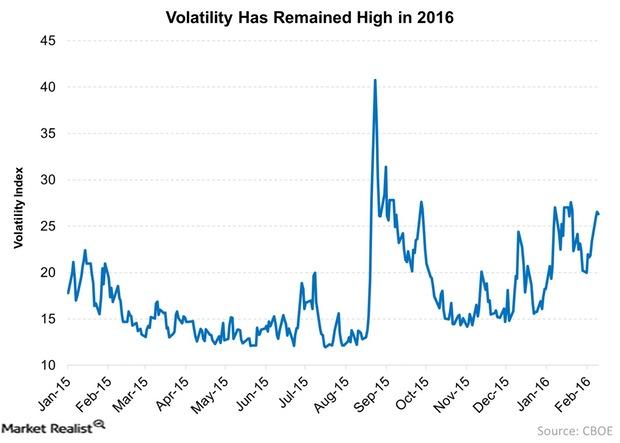 Why Returns Will Likely Stay Volatile in 2016
By Rick Rieder

Feb. 18 2016, Updated 3:06 a.m. ET
3. Returns will stay volatile. 
Remarkably, return contributions in 2015 weren't just concentrated by name; they were also concentrated by date. Missing a few of the best days of the year would have greatly injured annual returns, while avoiding the worst would have greatly aided them (with news out of China being a key swing factor). This trend too is not going away anytime soon, not least because concerns about China will continue to weigh on markets.
Article continues below advertisement
Market Realist – Brace yourselves for a volatile year ahead.
The graph above shows the volatility index or VIX (VXX), which measures the implied near-term volatility in the S&P 500 index. US markets (SPY)(QQQ) have been quite calm over the last few years, thanks mainly to easy monetary policy. The VIX averaged around 14 in 2013 and 2014—much lower than the long-term average of 20. The index climbed slightly in 2015, averaging 16.7. The increase was mainly due to the huge spike in volatility in August.
This year, though, markets have been volatile from day one. The index has averaged close to 24 this year. This year has seen a rise in correlation between stocks and oil prices. The market suspects that the fall in oil (USO) prices, along with weakening growth in China (FXI), could lead to contagion and a slowdown in global growth.
For the same reasons, the markets are likely to remain volatile for the rest of the year and beyond. Uncertainty about the rate hike could add to this volatility. Also, even after the US equity markets have corrected, their valuations remain close to the long-term average of 16.5x earnings. More importantly, markets are concerned about the lack of any catalyst that could turn the market around.