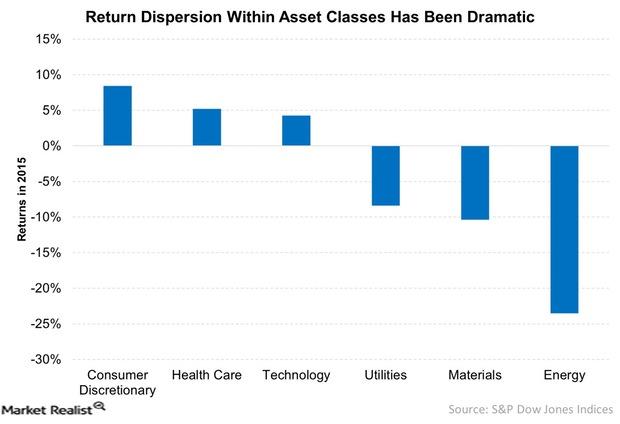 Why Returns Will Likely Be Far from Uniform within Asset Classes
By Rick Rieder

Feb. 16 2016, Published 11:56 a.m. ET
2. Returns will be far from uniform within asset classes. 
During the last few years, return dispersions within asset classes have been dramatic. According to an analysis using Bloomberg data, the top ten names in the market capitalization-weighted S&P 500 Index have provided an outsized contribution to the index's total return in recent years.
Similarly, return dispersion by sector has also been remarkable in recent years, in my opinion. While the consumer discretionary, technology, and healthcare sectors have held up relatively well, other sectors (like energy, utilities and material) haven't. Further, this kind of dramatic return dispersion hasn't been limited to the equity world; it has also been happening in the fixed income space, the data show. In other words, while many asset classes experienced moderate losses in 2015, those losses tended to be concentrated among certain names and in certain sectors and industries.
Article continues below advertisement
Looking forward, I believe this return dispersion will continue, and even accelerate, this year. This is because it's at least partly a result of important trends transforming the global economy and markets, including shifting demographics and the influence of new technologies. It's also a reflection of ongoing fears over the impact of China's growth slowdown on commodities and other emerging market economies.
Market Realist – Return dispersion is likely to continue.
The graph above shows the returns on the three best-performing and three worst-performing sectors of the S&P 500 in 2015. Consumer discretionary (XLY)(IYC) was the top-performing sector of 2015, giving returns of 8.4%. Savings at the pump meant that people had more money to spend elsewhere, like eating at more upscale restaurants. The healthcare sector (IYH) gained 5.2% in 2015. Meanwhile, technology stocks (QQQ)(IYW) gained ~5% in 2015.
The worst-performing sectors of the year were energy, materials, and utilities. The energy sector plummeted 23.5% in 2015, for obvious reasons, while materials slumped 10.4%. The utility sector (IDU) fell over 8% in 2015 due to expectations of higher rates throughout the year.
As you can see, the difference in returns between the sectors has been huge. Lower oil prices are likely to continue to weigh on the energy sector (IYE)(XLE) while low commodity prices could negatively affect the materials sector (IYM).
The dispersion in returns is likely to occur within emerging markets (EEM) as well. Economies that are major exporters of oil and other commodities, like Russia and Brazil, could struggle more. Meanwhile, major oil importers like India could benefit in the low oil price environment.