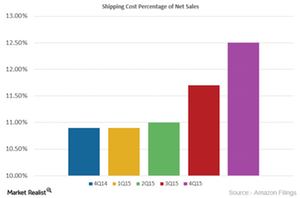 The Rationale behind Amazon's Growing Shipping Costs
By Parker Thomas

Updated
Customers are hesitant to pay shipping charges
The growing online retail business continues to expand its services to reach every corner and serve consumers with reliable and faster delivery. Emerging markets, increasing product lines, and volume for shipment all raise the cost of shipping. Amazon (AMZN) primarily depends on United Parcel Service (UPS) and FedEx (FDX) to integrate its logistic operations for deliveries in certain high-density regions.
Article continues below advertisement
Unlike brick-and-mortar stores, shipment costs for e-tailers vary with the mode and speed of delivery that drives the overall cost of the transaction. According to Purolator International, price is the determining factor for online shoppers. About 63% of Americans and 76% of Canadians give preference to price before making a purchase online. According to comScore, consumers hesitate to move forward with the payment gateway process when shipping charges are attached to the total transaction cost.
What makes shipping costs grow?
Over the past few years, UPS and FedEx have continued to increase their charges for delivering goods despite the fact that gasoline and diesel fuel have not seen a surge since 2011. The increase in charges primarily comes from consumers' impulse buying and random purchases. As a result, the frequency of delivering smaller and lighter packages increases with separate shipments from different warehouses, which in turn creates the direct impact on the cost of shipping goods. In January 2015, both UPS and FedEx shifted their pricing metrics to dimensional weight on all ground shipments, which ultimately created additional pressure on e-commerce shipping.
For 4Q15, expenses from shipping constituted 12.5% of revenue compared to 10.9% in 4Q14. During the 4Q15 earnings call, the company said that "the calculation of ship cost as margin is a percent of revenue, and that is impacted by the denominator effect on the FBA sales being booked at a net revenue." The company's net shipping costs, which excludes the shipping cost incurred from FBA sales, also rose to 5.5% in 4Q15 compared to 4.8% in 4Q14.
Amazon and eBay (EBAY) constitute 5.1% and 0.65%, respectively, of the PowerShares QQQ ETF (QQQ).