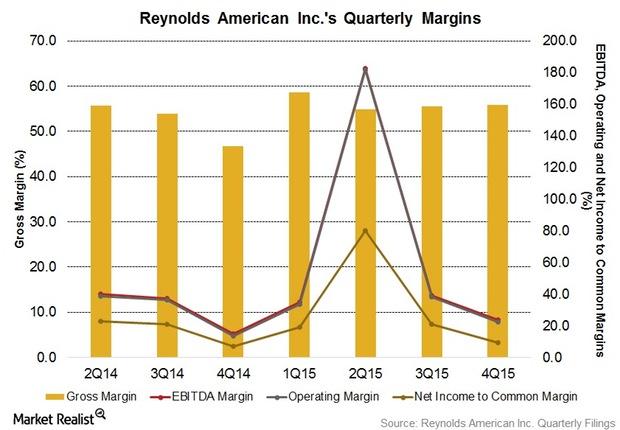 RAI's Operating Margin Grew 41.2% on Strong Segment Results
By Penny Morgan

Dec. 4 2020, Updated 10:53 a.m. ET
Operating income in 4Q15
Reynolds American's (RAI) reported operating income increased 88.5% to ~$0.3 billion in 4Q15 versus $0.1 billion in 4Q14. This figure includes charges for implementation costs, asset impairment, and exit costs. It also includes transaction-related and financing costs for the Lorillard acquisition and related divestitures to Imperial Tobacco Group (ITYBY) as well as other litigation charges.
Article continues below advertisement
Adjusted operating income
Excluding the above charges, adjusted operating income rose 48.5% to ~$0.7 billion in 4Q15 compared to ~$0.5 billion in 4Q14. The operating income increased primarily due to strong results delivered by RJR Tobacco's new addition of its Newport brand, RJR Vapor's Vuse Digital Vapor Cigarette, and American Snuff's Grizzly brand.
Operating margin versus peers
As a result, RJR Tobacco's adjusted operating margin increased 4.1 percentage points to 44.6% in 4Q15. Santa Fe's operating margin increased to 52.8% while American Snuff's operating margin increased to 59.4% in 4Q15. RAI's 4Q15 adjusted operating margin rose 4.6 percentage points to 41.2%.
Similarly, Altria Group's (MO) operating margin improved ten basis points to 41.6% in 4Q15 compared to 41.5% in 4Q14. However, Philip Morris's (PM) adjusted operating income excluding unfavorable currency impact decreased 7.2% in 4Q15. This resulted in a 4.5% decline in adjusted operating margin to 32.4%. To learn more about PM's 4Q15 margins please read, Unfavorable Volume Mix Influenced PM's 4Q15 Operating Margin.
Article continues below advertisement
Cash tender and cash balance
On February 4, RAI announced a cash tender offer for up to $2.8 billion aggregate cash spending for certain outstanding notes and the redemption of $950 million aggregate principal amount of certain other outstanding notes. RAI expects to reach the top end of its target leverage of 2.5 times debt-to-EBITDA by the end of this year. In 4Q15, the company had cash balances of $2.6 billion.
Higher margins
RAI plans to strengthen American Snuff's moist snuff products, as profit margins on moist snuff products are higher than on cigarette products.
RAI makes up 0.2%[1. Updated on February 15, 2016] of the iShares Russell 3000 ETF (IWV).