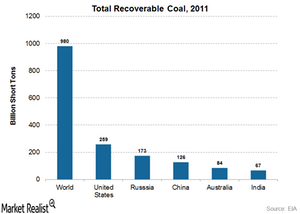 Where Are the Key Coal-Producing Regions in the US?
By Sheldon Krieger

Updated
Coal reserves
According to the US Energy Information Administration (or EIA) statistics, the United States is estimated to contain more recoverable coal than any other nation in the world. It is estimated to contain about 27% of total recoverable coal reserves in the world.
Article continues below advertisement
Coal distribution
Coal deposits are widely distributed across the United States. Areas with coal deposits broadly fit into three regions:
the Western region (includes Alaska and the Powder River Basin)
the Interior region
the Appalachian region
According to the World Energy Council, the Western region contains 47% of the EIA's demonstrated reserve base, the Interior region contains 32%, and the Appalachian region contains 21%.
Coal-producing regions
According to the EIA's latest annual coal report, the Western region accounted for 54% of total coal production, of which 90% came from surface mines.
About 19% of total coal produced was mined in the Interior region. 54% of the coal from this region came from underground mines and 46% came from opencast mines.
The Appalachian region accounted for about 27% of total coal production. 70% of the coal from the region came from underground mines.
The Western region is home to the world's largest coal mine, the North Antelope Rochelle coal mine in the Powder River Basin of Wyoming. This mine is owned and operated by Peabody Energy (BTU).
Peabody Energy (BTU), Arch Coal (ACIIQ), Cloud Peak Energy (CLD), and Alpha Natural Resources (ANRZQ) are the top four coal-producing (KOL) companies in the Unites States.
In the next part of this series, we'll find out about the different types of coal.