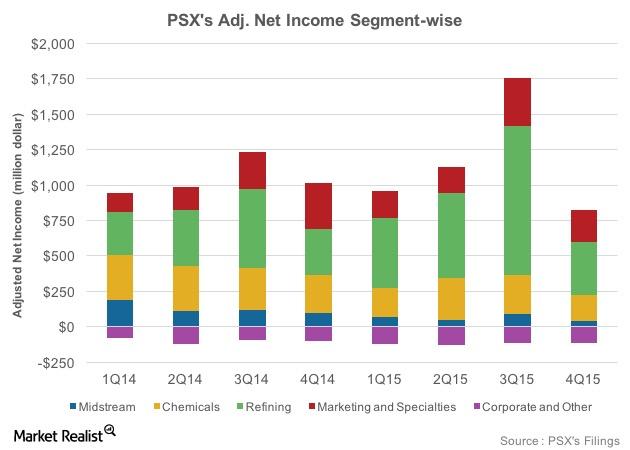 PSX's Gross Refining Margin Rises to $9.4 per Barrel in 4Q15
PSX's segment-by-segment analysis
In 4Q15, Phillips 66's (PSX) total adjusted net income of $710 million fell yearly and sequentially by 22% and 57%, respectively. In 4Q15, PSX's refining segment contributed $376 million, or 53%, to its adjusted net income, followed by the marketing and specialty segment, which contributed $227 million, or 32%.
The company's chemicals segment contributed $182 million, and its midstream segment contributed $42 million to its adjusted net income in 4Q15. All four segments noted falls in adjusted income in 4Q15 compared to 3Q15.
Article continues below advertisement
PSX's refining margin in 4Q15
Phillips 66 saw its gross refining margin (or GRM) rise by $0.1 per barrel over 4Q14 to $9.4 per barrel in 4Q15.
According to PSX, a $1 per barrel change in gasoline and the distillate crack spread affects its annual net income by $230 million and $200 million, respectively. In 4Q15, gasoline cracks have improved over 4Q14 across its operating areas of the Atlantic Basin and Europe, the Gulf Coast, the Central Corridor, and the Western Pacific. However, the distillate cracks fell across all zones, partially offsetting refining gains in 4Q15 compared to 4Q14.
On a sequential basis, PSX's GRM fell by $4.6 per barrel over 3Q15. Gasoline and distillate cracks have narrowed in all PSX's operating zones in 4Q15 compared to 3Q15, except for the West Coast (or Western Pacific) distillate crack, which has risen marginally.
Phillips 66 and its peers' refining margins in the previous quarter
Refining margins that fell in 4Q15 had risen steeply until 3Q15. In 3Q15, PSX noted a rise in its GRM of $3.1 per barrel to $14 per barrel compared to 3Q14.
PSX's peers Marathon Petroleum (MPC), Tesoro (TSO), and Valero Energy (VLO) also witnessed rises in their GRMs in the third quarter. MPC, TSO, and VLO saw their GRMs widen by $2.7, $5.6, and $2.6 per barrel, respectively, over 3Q14 to $17.3, $20.5, and $14.4 per barrel, respectively, in 3Q15.
If you're looking for exposure to refining sector stocks, you could consider the iShares North American Natural Resources ETF (IGE). The ETF has PSX, VLO, MPC, and TSO in its portfolio. IGE has ~10% exposure to refining and marketing sector stocks.