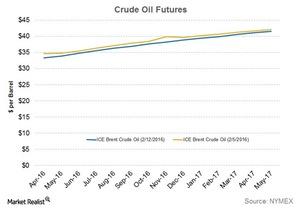 What's the Possibility of Offshore Crude Oil Storage?
By Sue Goodridge

Updated
Offshore storage 
According to a Bloomberg report last week, ships are storing oil off the coasts of Singapore and Malaysia, and floating storage has become almost possible in other areas.
Article continues below advertisement
Contango and offshore storage
Chartering vessels to be used as floating storage becomes attractive when contango trade becomes possible. Contango is a situation in which the spot price of a commodity is lower than its futures price. This allows traders to lock in profits by buying crude oil now and selling it forward for later delivery, as long as the costs of storage are low enough.
Offshore storage becomes more attractive as contango increases. This increases crude tanker demand, which has a positive impact on crude tanker companies such as Teekay Tankers (TNK), Frontline (FRO), Nordic American Tankers (NAT), Tsakos Energy Navigation (TNP), DHT Holdings (DHT), and Euronav (EURN).
Current offshore storage
According to Bloomberg's report, oil has been stored on four ships off the coasts of Singapore and Malaysia. As oil prices drop, greater amounts of cheaper oil are stored in onshore tanks. As onshore capacity fills up, the market will slowly move toward more costly offshore storage.
Futures curve
On February 12, 2016, the spread between three-month crude oil futures was $1.8 per barrel. On the same day, contango in ICE Brent Crude Oil (DBO) stood at $6.5 per barrel over the contracts expiring in December 2016.
A combination of bunker prices around $208 per ton, VLCC rates of about $35,000–$40,000 per day, and a 12-month contango near $8 per barrel supports offshore storage.
Currently, VLCC rates are around $43,000 per day. Due to a steep fall in crude oil prices, bunker fuel prices are around $140–$160 per barrel, which makes offshore storage possible at a lower spread. According to Morgan Stanley, at the current spread, VLCC rates of around $40,000 would make offshore storage possible.