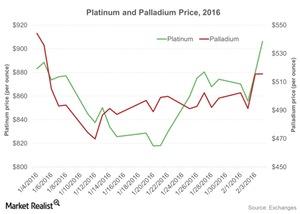 Platinum and Palladium Prices Try to Recover
By Meera Shawn

Updated
Platinum and palladium rose
Since the beginning of the new year, precious metals have been divided into two parts—safe-haven precious metals and industrial precious metals. Gold and silver stood among the safe-haven appeal providers. They rose significantly amid the global tumult. Platinum and palladium are among the precious metals that have extensive industrial usage. As a result, they reached low levels in 2016.
The slump in the Chinese market added to the losses for platinum and palladium. China is the biggest consumer of platinum and palladium. Both of these industrial counterparts are extensively used as autocatalysts in vehicle engines. The slump in equity markets, weak Chinese manufacturing data, and lower prospects all impacted these two metals. They fell heavily.
Article continues below advertisement
However, platinum recovered completely from its losses. It gained ~1.7% on a year-to-date basis. Palladium lost about 8% since the beginning of the year. February 4, 2016, was an up day for all of the precious metals including platinum and palladium. They rose by 3.9% and 3.7%, respectively, on a five-day trailing basis. They closed at $906.3 and $515.6 per ounce, respectively, on February 4.
Technical indicators
Although platinum mainly recovered from the fall at the beginning of the year, the current price is still at a 5.8% discount from its 50-day moving average price. However, the 100-day moving average price is close to the current trading price. The RSI (Relative Strength Index) for platinum is at 63. Palladium is still at an 11.8% discount from its 100-day moving average price of $584. It's at a 2.2% discount from its 50-day moving average price. The RSI level is at 53.
The ups and downs in precious metals resulted in a mixed performance by miners. New Gold (NGD) and Newmont Mining (NEM) rose by 18.7% and 26.9%, respectively, on a 30-day trailing basis. Primero Mining (PPP) and Eldorado Gold (EGO) fell by 19.6% and 10%, respectively, on the same basis. Together, these four companies account for 12.3% of the price fluctuations in the VanEck Vectors Gold Miners ETF (GDX).