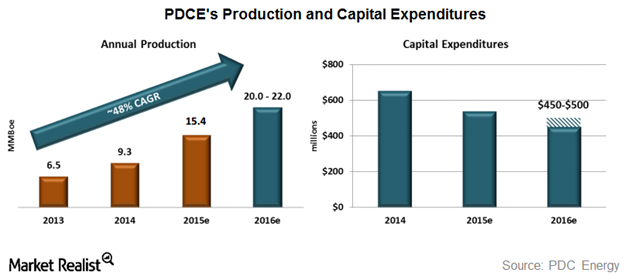 Why PDC Energy's Production Strategies Have Helped Cash Flows
PDC Energy's 2015 production and guidance for fiscal 2016
On January 20, 2016, PDC Energy (PDCE) announced that its production in fiscal 2015 was ~15.4 MMboe (million barrels of oil equivalent). This figure represents ~65% year-over-year growth. PDCE expects 2016 production to be between 20 MMboe and 22 MMboe, representing a growth range of 35%–40% year-over-year.
Article continues below advertisement
PDCE's lower cost and capex resulted in positive 3Q15 free cash flow
PDCE's earnings have come in stronger relative to its other upstream peers due to its "drilling efficiencies, coupled with cost reductions." PDCE had reduced its lease operating expenses or LOE by ~37% year-over-year in 3Q15.
Plus, PDCE reduced its capital spending in 2015. It anticipates spending even less in 2016. Its 2016 capital budget is ~$475 million at the mid-point.
As a result of its lower cost structure and reduced capex, PDCE was able to achieve a positive free cash flow or FCF in 3Q15.
Many upstream companies have been following similar steps to reduce production costs and capex in response to lower energy prices. Newfield Exploration (NFX) expects its LOE to be 25% lower in 2015 versus 2014. Apache's (APA) LOE was down 18% in 3Q15 from 3Q14. ConocoPhillips's (COP) operating cost guidance for 2016 is 12.5% lower than in 2015. All these companies make up ~7.4% of the SPDR S&P Oil and Gas Exploration and Production ETF (XOP).
PDCE's hedge position
PDCE's strong hedge book in 2015 and 2016 complement its increasing production and reduced capex. On the basis of its mid-point of 2016 production guidance, ~50% of 2016 estimated crude oil volumes are hedged at ~$85 per barrel and ~62% of estimated natural gas volumes are hedged at ~$3.65 per thousand cubic feet. As of November 30, 2015, the market value of PDCE's future hedges exceeded $250 million.