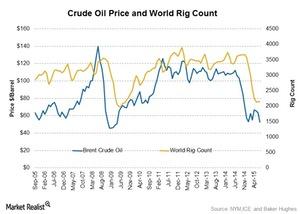 How Oil Prices and Rig Count Go Hand in Hand
By Sue Goodridge

Updated
Oil rig count
Rig count represents the total number of active rigs in the world. It's important for us to note that oil prices and rig count have exhibited a positive relationship. When oil prices increase, the demand for drilling and so the rig count increases. Similarly, falling oil prices are often followed by lower rig counts. But for the rig count to fall, prices need to decrease substantially to the point that drilling becomes unprofitable for oil companies.
Article continues below advertisement
Oil prices and rig count
The offshore drilling (OIH) industry works on contracts. These contracts normally range from four months to more than one year. Falling or rising crude oil prices do not affect the planned offshore drilling in the short term, but the effect of price changes on rig count can definitely be seen after four or six months, once existing contracts cease. Thus, we can still say that oil prices are a leading indicator for rig count.
After crude oil prices increased between 2005 and 2007, we saw a period of global recession that included a drastic fall in crude oil prices in 2008, which was followed by a drop in the world rig count. Similarly, as oil prices recouped in 2009, the rig count also started an upward trend. In 2015, we witnessed another situation wherein a drop in oil prices was followed by a drop in rig count.
Falls in oil prices
Thus, any decrease in oil prices negatively affects rig counts, while rising oil prices positively affect companies like Diamond Offshore Drilling (DO), Noble Corporation (NE), Pacific Drilling (PACD), Seadrill (SDRL), Transocean (RIG), and Atwood Oceanics (ATW). But any change in rig count also affects these companies' utilization rates. Let's examine this further in the next part of our series.