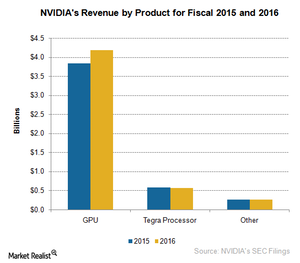 NVIDIA Walks away Clean from Samsung's Patent Infringement Claim
Semiconductor patent update
Patents are the new hype in the semiconductor industry, which is grappling with slow sales of PCs and smartphones. Qualcomm (QCOM) is well-known for its strong business model, in which 70% of profits comes from patent licensing fees. The company has signed yet another patent licensing agreement with Lenovo.
Walking in QCOM's footsteps is NVIDIA (NVDA), which is looking to open licensing as its new revenue stream and has been in legal battle with Samsung Electronics (SSNLF) and Qualcomm over patent infringement. On the other hand, Marvell Technology (MRVL) settled a patent lawsuit with Carnegie Mellon University for $750 million.
In this series, we'll dive into the details of each patent case and study their impact on the company's revenue and profits.
Article continues below advertisement
NVIDIA wins one of two legal battles against Samsung
One of the two patent lawsuits between NVIDIA and Samsung has finally come to a conclusion—for now, at least. The Richmond, Virginia court has found NVIDIA not guilty of infringing Samsung's patent for memory chips used in the former's computer graphics cards. This protected NVIDIA's GPU (graphic processing cards) from being banned in the US.
You can gain exposure in NVIDIA through the iShares Russell 1000 Value ETF (IWD), which invests in US large-cap stocks and has 0.18% exposure in NVDA.
Samsung case details 
The original case was filed by Samsung in November 2014 for the infringement of four patents by NVIDIA. However, Samsung itself dropped one patent before the trial began. When the trial was ongoing, a judge ruled that two patents were a mistrial, thus leaving only one patent entitled "multimode data buffer and method for controlling propagation delay time" for the final ruling. The battle was nearly won for NVIDIA. Sticking to that one patent, Samsung asked federal regulators to ban NVIDIA from selling GPUs in the US.
However, in February 2016, a federal jury ruled in favor of NVIDIA. While NVIDIA is pleased with the ruling, there is a possibility that Samsung might try and appeal against the ruling. The Samsung case was in retaliation to a case filed by NVIDIA against Samsung and Qualcomm back in September 2014. The verdict of this case is still pending at the US International Trade Commission in Washington.
Now let's examine this legal battle in more detail.