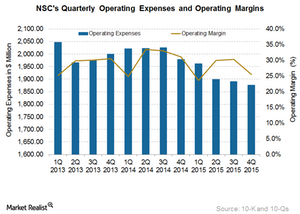 Why Did Norfolk Southern's Operating Profitability Fall in 4Q15?
Operating profitability in 4Q15
In this article, we will analyze the reasons behind the fall in operating profitability of Norfolk Southern Corporation (NSC). NSC reported quarterly operating expenses of $1.8 billion in 2015, down by 5% from 4Q14, whereas the revenues for the same period fell by 12%. Investors should note that keeping operating expenses within limits is a critical factor for railroads in times of low volumes.
In the fourth quarter of 2015, NSC recorded an operating expense ratio of 74.5%, which was quite unfavorable compared with 68.9% reported in 4Q14. On a yearly basis, the company's operating ratio was 72.5% compared with 69.2% in 2014.
The operating ratio in 2015 was significantly impacted by $93 million restructuring expenses related to Triple Crown Services (or TCS). However, investors should note that even if we remove the effect of TCS restructuring, the operating ratio deteriorated by 350 basis points in 2015.
Article continues below advertisement
Compensation and benefits
Compensation and benefits expenses went down by $12 million (or 2% of revenues) in the fourth quarter of 2015. This was primarily due to reduced incentive compensation expenses of $41 million and $13 million in lower overtime. This was offset by higher pay rates of $13 million, as well as an equal labor agreement payment and severance cost of $4 million related to the restructuring.
Purchased services and rents
Purchased services and rents fell by $12 million, or 3%, in the fourth quarter of 2015. The higher equipment rents, expenses, and charges of the office closure in Roanoke, Virginia, were compensated by savings from Triple Crown Services restructuring.
Article continues below advertisement
Fuel expenses
Norfolk Southern's (NSC) fuel charges fell from $347 million in 4Q14 to $194 million in 4Q15. Much of the fall was attributed to $125 million savings in price differentials, followed by $12 million savings in locomotive fuel consumption.
Management outlook
In purchased services and rents expenses, Norfolk Southern (NSC) has projected annual savings of $70 million by 2020 through reduced equipment rental and lease costs. Lower spending for third-party switching and lower trackage rights and haulage payments will support the estimated $70 million savings. Norfolk Southern expects headcount cut, service improvements, traffic shifts, network rationalization, and reduction in yards and terminals to lower compensation and benefits expenses in 2016.
Operating expenses expressed as the operating ratio are crucial to understanding the operating efficiencies of railroads. Below are the 2015 operating ratios of Norfolk Southern's peers:
The Morningstar Wide Moat ETF (MOAT) holds 24.8% in the industrial sector. All Class I railroads are covered under the industrial sector for this ETF. MOAT holds 14.6% in this peer group.
In the following article, we will analyze whether Norfolk Southern will be able to carry its share repurchase momentum in 2016.