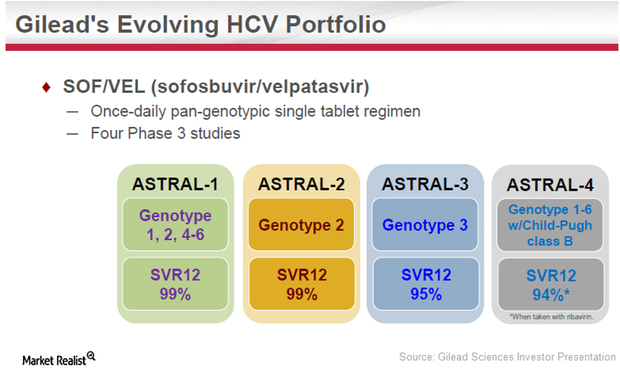 New Pan-Genotypic HCV Drug Should Create Growth Opportunities
By Margaret Patrick

Mar. 1 2016, Updated 12:05 a.m. ET
Growth opportunities
Despite strong competition posed by AbbVie (ABBV), Merck (MRK), and Johnson & Johnson (JNJ), Gilead Sciences (GILD) is expected to continue its stronghold in the HCV (hepatitis C) space in 2016. The development of a once-daily STR (single table regimen) for all genotypes of HCV patients is expected to be one of the major drivers of the company's future performance.
Article continues below advertisement
New pan-genotypic HCV drug
The above chart shows the four ongoing phase 3 studies and the SVR (sustained virologic response) results obtained for the company's investigational sofosbuvir and velpatasvir combination. This once-daily combination was tested for treating patients suffering with any genotype of HCV as well as for patients suffering from compensated and decompensated cirrhosis.
According to the University of Washington, "Once it has been established that a patient has cirrhosis, it becomes very important to determine whether they have compensated or decompensated cirrhosis. Patients with compensated cirrhosis do not have symptoms related to their cirrhosis, but may have asymptomatic esophageal or gastric varices. Patients with decompensated cirrhosis have symptomatic complications related to cirrhosis, including those related to hepatic insufficiency (jaundice), and those related to portal hypertension (ascites, variceal hemorrhage, or hepatic encephalopathy)."
The FDA (U.S. Food and Drug Administration) granted priority review status to this investigational drug. It has a PDUFA (Prescription Drug User Fee Act) date of June 28, 2016. The FDA sets the PDUFA date. It acts as a deadline for the organization to announce its decision for the investigational drug. The drug is also being reviewed under accelerated assessment in the European Union. In case this combination is approved, it will enable Gilead Sciences to mainly target genotype 2 and genotype 3 HCV patients. It will also be the first drug to treat patients suffering from any HCV genotype and result in high SVR rates with 12 weeks of therapy.
Cannibalizing Harvoni's revenue
If approved, Gilead Sciences' new HCV drug isn't expected to cannibalize Harvoni's sales. Harvoni displayed strong SVR rates in genotype 1 patients. Also, the drug can be used for an eight-week therapy unlike the new sofosbuvir and velpatasvir combination. It will be approved for a 12-week therapy. However, outside the US and Europe, this drug can be used for all HCV patients because genotyping is expensive in developing countries.
If the new sofosbuvir and velpatasvir combination therapy is approved and is successful, it will also help boost share prices of the iShares S&P 500 Growth ETF (IVW). Gilead Sciences accounts for about 1.6% of IVW's total portfolio holdings.
In the next part, we'll explore how the payer environment is changing for Gilead Sciences due to real-world data and expanding approved indications for its existing HCV drugs.