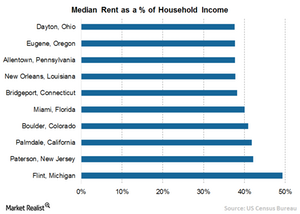 How Much Money Are You Spending on Rent?
By Peter Barnes

Feb. 2 2016, Updated 3:07 p.m. ET
Rent as a percentage of income
In the previous article, we discussed the decline in the rental vacancy rate. In this article, we'll discuss rent as a percentage of household income. A common rule of thumb suggests that rent and utilities should not comprise more than 30% of a household's income to be considered affordable. Beyond 30%, rental expenses start putting a strain on households, especially median-income households.
Article continues below advertisement
The issue is widespread
Rent is rising fast while pay raises have been very modest, which is a very difficult situation for median-income households. According to a study by Harvard University, around 50% of all renters are spending more than 30% of their income on housing at the national level compared to 38% of renters in 2000.
The excessive rent is not limited to the major high-cost cities like San Francisco, New York, and Boston. Many other cities in the country are also experiencing this scenario, which is an indication that the strain is widespread.
More than 90 cities are affected
According to a study by Zillow, a real estate research firm, around 90 cities are experiencing excessively higher rent (more than 30%) as a proportion of the median household income. Expenses on utilities are excluded from the rental portion.
For example, rent as a proportion of income in Miami has increased to 43% now compared to the historical average of around 25%. Another expensive city is Chicago where the same ratio has gone up to 31% compared to a historical (from 1985 to 2000) average of 21%. In New Orleans, rent consumes 35% of an average household's income, which is up from the historical average of 14%.
REITs see an opportunity
Diversified apartment REITs are expected to benefit from rising rents throughout the country. Investors can get exposure in the apartment REIT sector by investing in the iShares Cohen & Steers REIT ETF (ICF). Apartment REITs like Equity Residential (EQR), Essex Property Trust (ESS), UDR (UDR), and Alternative Investment and Management Company (AIV) make up 6.7%, 5.5%, 3.4%, and 1% of ICF's portfolio, respectively.
In the next part of the series, we'll discuss the outlook for the rental sector.