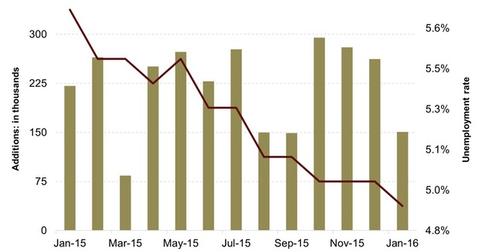 Why Monitoring the US Labor Market Is Important in 2016
By David Ashworth

Updated
Labor market indicators
The global economy is slowing down. Coupled with a strong dollar, this will put pressure on US exports. Though the federal government's spending will rise and increase GDP (gross domestic product), the US economy will look to increased consumer spending to keep growing. For consumer spending to remain healthy, the labor market must remain strong.
The primary indicator for the US labor market is the monthly non-farm payroll number, which is released along with the unemployment rate. According to the latest report, 151,000 jobs were added in January 2016, while the unemployment rate edged down to 4.9%.
A look at the above graph will show you that the number of job additions was among the lowest in the past year. Mining remains an eyesore and has continued to lose jobs along with hurting companies such as Alcoa (AA), Nucor (NUE), and CONSOL Energy (CNX).
Though job additions cannot consistently sustain a 200,000 pace each month since the labor market is close to full employment, a sharp fall in additions would still be a matter of concern. This is important in light of slack in the labor market.
Article continues below advertisement
Watch out for wage growth
Healthy wage growth is important for higher consumer spending. It will benefit mutual funds such as the Fidelity Blue Chip Growth Fund (FBGRX) and the Harbor Capital Appreciation Fund Investor Class (HCAIX), which have over a third of their assets invested in the consumer discretionary and consumer staples sectors combined.
If consumer spending is able to help the economy sustain a stable growth rate, it would stoke inflation and lead to a rise in interest rates. However, if labor market slack rises, job additions slow considerably, and, most importantly, wage growth stagnates, then further rate hikes could see delays.
For this reason, it will be important to keep a tab on labor market indicators in 2016.
Ultimately, the state of the labor market and inflation contribute to impacting the most important macroeconomic indicator: economic growth. Let's look at this in the last article of the series.