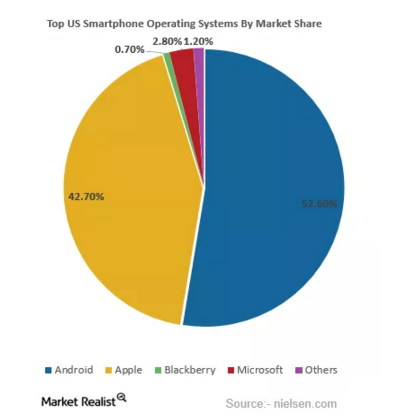 Microsoft's Xamarin Buyout: A Fight for Position among Developers
By Anne Shields

Nov. 20 2020, Updated 5:07 p.m. ET
Microsoft keen to entice developers with Xamarin
Previously in this series, we discussed Microsoft's (MSFT) recent acquisition of Xamarin. Microsoft's Xamarin's buyout appears to be aimed at attracting developers who are keen to create applications for devices that have a wider reach and an extensive customer base. Developers prefer to build apps for Google's (GOOG) Android and Apple (AAPL) iOS devices, which are very popular among users, partly due to their vast app ecosystem. On the other hand, Microsoft, BlackBerry (BBRY), and other small players collectively command less than 5% of the market share.

Article continues below advertisement
Microsoft's position in mobile app development will likely strengthen
In mid-2015, Microsoft expanded the reach and popularity of its Windows 10 as a common platform for all computing devices. Microsoft also announced web tools that would enable developers to migrate apps from Apple devices and Android devices to Windows devices—particularly smartphones, PCs, tablets, and Xbox consoles—in 2015. However, the results are yet to be seen.
Microsoft has stated that Xamarin has a support of approximately 1.3 million developers. With the Xamarin acquisition, Microsoft could very well capture the attention of developers who intend to build and develop cross-platform native apps.
Fighting for position
Microsoft is trying hard to make a position for itself in the mobile OS (operating system) space, where Apple and Google's Android dominates. It appears Microsoft has chosen acquisition route to achieve that.
Investors who wish to gain exposure to Microsoft could consider investing in the SPDR S&P 500 ETF (SPY). While SPY invests ~2.4% of its holdings in Microsoft, it also has an exposure of ~8% to application software.
Now for a short backstory on an earlier Microsoft acquisition: SwiftKey.