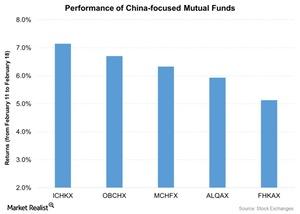 Why Mark Mobius Sees an Opportunity in China
By Lynn Noah

Updated
Shanghai Stock Exchange Composite Index rose
The Chinese stock market opened on February 15 after celebrating the week-long Lunar New Year holiday. The Shanghai Stock Exchange (or SSE) Composite Index was up by 4.2% from February 15 to February 18 and ended at 2,862.89 as Chinese authorities introduced new stimulus measures to support the slowing economy. Equity markets were also up due to a sharp rise in new yuan loans in January.
Article continues below advertisement
Mark Mobius sees opportunity in volatile Chinese markets
Mark Mobius, the executive chair of the Templeton Emerging Markets Group, is of the opinion that the irrational Chinese equity markets are creating buying opportunities and that the Chinese fundamentals are strong.
Mobius said, "The market already presents itself with opportunities to pick stocks at a bargain– companies which have been unduly punished by panicked sell-offs and volatility."
He further added, "A lot of the negativity is already priced in, but it would be a mistake to call it the bottom since markets tend to go further down or further up than anyone expects. What we need to do is focus on the individual companies and their ability to weather any economic downturn or even prosper from such downturns."
New stimulus measures
Chinese authorities have accelerated their support to the economy by making more funds available to local governments to fund new infrastructure projects. China's policymakers clarified that they have no intention of imposing inappropriate controls on foreign transactions, as there is no basis to depreciate the yuan further while the balance of payments is satisfactory.
Zhou Xiaochuan, governor of the People's Bank of China (or PBoC), said in an interview with Caixin Weekly, "some people are concerned that China will allow the RMB to depreciate in a bid to boost exports and GDP growth, which might intensify the so-called 'currency war.' If one has a closer look at China's current account balance, he will find that in 2015 goods trade surplus was close to $600 billion, and net exports' contribution to GDP was fairly high; therefore, there is not a motivation for depreciation to boost net exports."
Returns of China-focused mutual funds
From February 11 to February 18, the Guinness Atkinson China and Hong Kong Fund (ICHKX) posted the highest returns of 7.1%.
The returns of the Oberweis China Opportunities Fund (OBCHX), the Matthews China Fund Investor Class (MCHFX), and the AllianzGI China Equity Fund–Class A (ALQAX) were up by 6.7%, 6.3%, and 5.9%, respectively.
Meanwhile, the Fidelity Advisor China Region Fund–Class A (FHKAX) rose by 5.1%. For the same period, ADRs of Chinese tech giants such as 58.com (WUBA), Baidu (BIDU), and JD.Com (JD) were up by 17.6%, 13.8%, and 10.6%, respectively.
Meanwhile, shares of Groupon (GRPN) soared after Alibaba Group Holding Limited (BABA) bought a 5.6% stake in it. In the next article, we will evaluate China's foreign trade data.