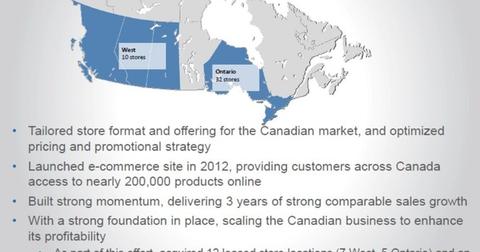 How Lowe's Benefits from a $2.3 Billion Rona Acquisition in Canada
By Phalguni Soni

Nov. 22 2019, Updated 12:14 p.m. ET
Lowe's (LOW) performance and prospects in the Canadian market
Lowe's (LOW) first entered the Canadian market in 2007. Since then, it's grown its Canadian store count to 42. However, the company doesn't report revenue from its Canadian operations yet. They're an insignificant part of the company's overall revenue pie. The company has reported positive comparable store sales growth in the last three years in Canada, though.
Lowe's views the $2.3 billion Rona purchase as a relatively quick way to participate in Canada's growing $45 billion Canadian home improvement market[1. Source: Lowe's filings, IHS HIRI 2015 Report on Canadian HI Products Market] and to gain scale at the same time. Rona's nearly 500 retail real estate locations and distribution network are key attractors for Lowe's. So is the $4.1 billion Canadian in sales that Rona makes each year, which should provide an instant boost to Lowe's top line. However, Rona isn't as profitable as Lowe's, and the latter hopes to address that issue. Read parts 5 and 6 of this series for the projected financial impact of the transaction on Lowe's financial statements.
Article continues below advertisement
Organic growth
Besides the Rona purchase, which gives the retailer nearly 500 additional stores, Lowe's is also projecting several new stores under its own banner in Canada in the next few years. Rivals Home Depot (HD) and Restoration Hardware (RH) are also bullish on the prospects of the Canadian market. They plan to increase their respective store counts there too.
Lowe's has also already acquired 12 leased locations and one distribution center from Target (TGT) in Canada in 2015. Target exited its Canadian operations.
HD and LOW together constitute 2.3% of the portfolio holdings in the First Trust Consumer Discretionary AlphaDEX(R) Fund (FXD) and 2.0% of the holdings in the iShares S&P 100 ETF (OEF).
Distribution footprint
The Rona acquisition also comes with three ready-made distribution centers in Quebec, servicing mainly Quebec, Ontario, and the Atlantic provinces. Ontario and Quebec alone constitute over half the Canadian home improvement market.[1. Source: Hardlines 2015 Retail Report] Plus, Rona has six other distribution centers in Canada. These advantages should provide Lowe's with a head start in its supply chain, speed to market, and sales growth (IVW) (RPG) (IWB).
Let's see how Rona expects to benefit from the Lowe's takeover in the next part of this series.