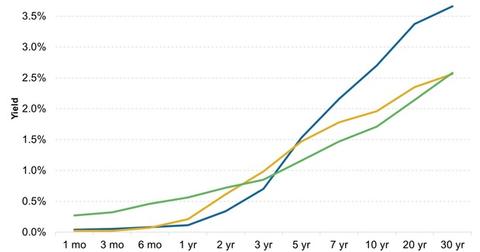 A Look at Treasury Yields as February 2016 Ends
By David Ashworth

Updated
Treasury yield curves
Last year, US Treasury yields lost much of their curve, as the pace of decline in long-term yields was much faster than those of short-term yields.
The curve as of February 25, 2016, is quite different. Yields on shorter-maturity Treasuries (OPGVX), specifically up to two years, are much higher than they've been in the past two years. Yields on intermediate-term maturities (AMUSX) are lower than they've been in the past two years, while yields on longer-maturity papers, except for the 30-Year bond, are lower than they were a year ago, but not down as sharply as intermediate-term Treasuries.
Article continues below advertisement
Why have yields moved this way?
The hike in the target range of the federal funds rate by 25 basis points, effective on December 16, 2015, is the reason why Treasury yields have risen on short-term maturity papers. The rise has been quite sharp, in the range of 23–45 basis points, for Treasury bills (papers of up to one-year maturity) and the 2-Year Treasury note.
Treasury yields on intermediate-term maturity notes (3-Year to 7-Year notes) have fallen, as many investors have moved into this maturity bucket rather than flocking to short-term maturities. After the rate hike in 2015, most Market participants expected that rates would be hiked two to four times in 2016. With demand rising, prices rose, leading to a fall in Treasury yields in this maturity.
Long-term Treasury yields should have risen following the rate hike. However, they've remained lower than they were a year ago since the slower-than-anticipated pace of rate hikes hasn't made them quite as unattractive.
Worries about China and falling crude oil prices (XOM) (RDS.B) (CVX) have also led investors to the safety of the Treasuries.
Since we're looking at Treasury yields, let's look at how Treasury spreads have fared in the next article.