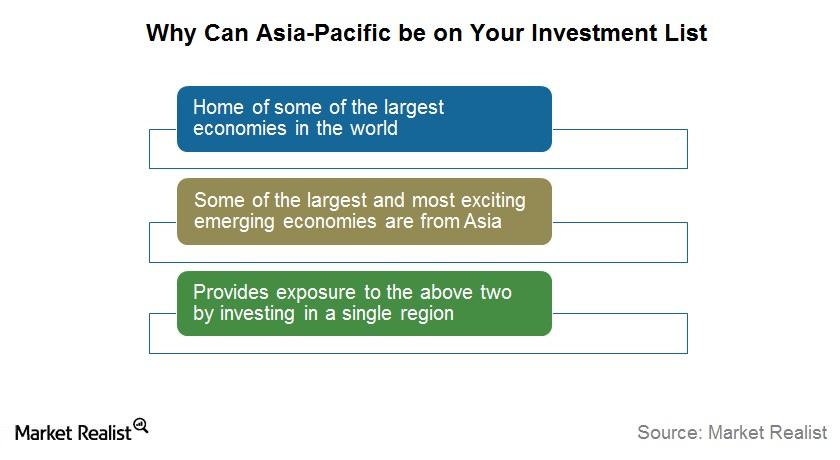 Why Look to Invest in Asia-Pacific via Mutual Funds?
By David Ashworth

Feb. 12 2016, Updated 9:44 a.m. ET
Diversifying investments
When we talk about diversifying investments, we generally refer to asset class diversification or investing across asset classes like equities, bonds, commodities, and bullion. Loading up on any single asset class is almost never a good investment choice. However, diversification has another dimension: geography.
One of the things that the testing times of the Great Recession have taught us is that investing across geographies can save us some of the lost capital associated with a geography that is undergoing rough weather. Astute asset allocation—and some luck—can also help appreciate your invested capital.
Geographical diversification allows your portfolio to keep earning returns in case your primary geography has not been doing well. When diversifying internationally, you can look at regional diversification or country-specific diversification.
Article continues below advertisement
Why Asia-Pacific?
Generally speaking, if you're diversifying your equity exposure, it's restricted to theme-based, market-cap-based, and sector-specific mutual funds. Europe comes first to mind when diversifying internationally. But unless you're ultra-cautious and want to restrict yourself to Europe, Asia-Pacific should figure in your list of investible regions. The area is made up of developed economies like Japan, Australia, South Korea, and Singapore, along with major emerging economies like India and China, among others.
Due to a heterogeneous spread of economies and financial markets, investing in Asia-Pacific can help you balance your investment across developed, emerging and even frontier financial markets in a single region. And your cause can be helped by mutual funds like the Columbia Pacific/Asia Fund Class A (CASAX) and the Invesco Pacific Growth Fund Class A (TGRAX), which help you invest in companies like Toyota Motor (TM), Fuji Heavy Industries (FUJHY), and China Mobile (CHL), among a host of others.
In this series, we'll look at several choice mutual funds that can help you invest in Asia-Pacific region. We'll analyze portfolio compositions, fees charged, minimum investments required, and other key factors.
Let's begin with the Columbia Pacific/Asia Fund (CASAX).