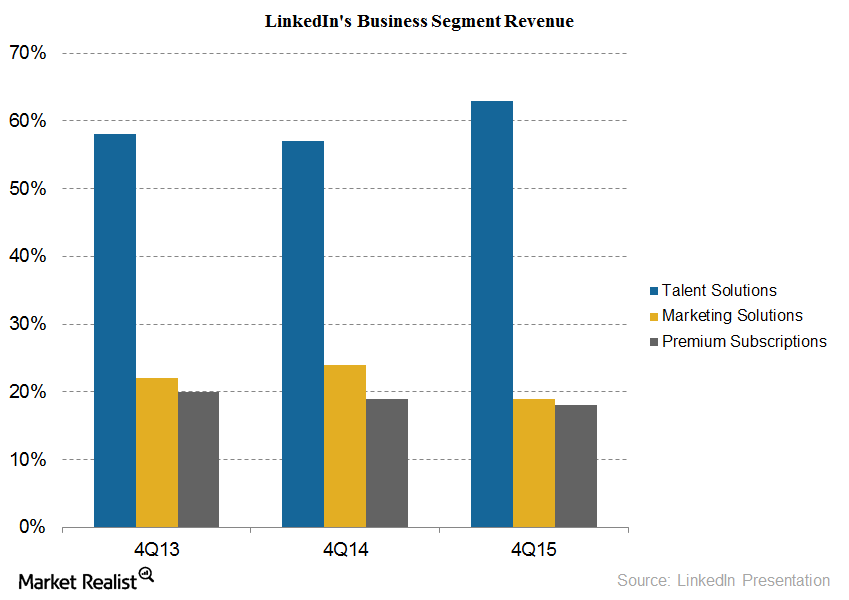 LinkedIn Expects Slower Growth in Talent Solutions for 2016
Talent solutions division provides tools to employers
LinkedIn (LNKD) has stated that one of its key business segments is its Talent Solutions division, which provides software tools for employers and recruiters.
The company expects this segment to grow by 25%–26% YoY (year-over-year) in 2016 compared to growth of 30% YoY in 2015. The company has blamed the economic slowdown in Europe and China (FXI) for the slower growth in this division.
LinkedIn's Talent Solutions division generated revenues of $535 million in 4Q15, a rise of 45% YoY. It accounted for 62% of total sales.
Article continues below advertisement
A majority of revenues are generated by fees
Though LinkedIn is often compared to social networking companies such as Facebook (FB) and Twitter (TWTR), it has a different business model. Facebook and Twitter generate revenues from digital ads. In comparison, LinkedIn generates over 60% of its revenues from fees paid by employers and recruiters. The other 40% is generated through advertising and premium subscriptions.
LinkedIn's revenue growth has been impressive in the last five years. The company has often reported a net loss in its earnings as it awarded employees with large stock grants. In 4Q15, LinkedIn's membership rose by 19% YoY to 419 million. Analysts expect the same growth in emerging markets such as China and India (INDA).
LinkedIn is facing competition from companies such as Glassdoor, where employees rate companies and can access job postings as well. Facebook has also recently launched a service where employees can communicate with their colleagues.