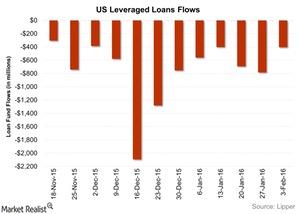 Leveraged Loan Funds Witnessed Outflows: What Does It Mean?
By Lynn Noah

Nov. 20 2020, Updated 11:31 a.m. ET
CLO deals
According to S&P Capital IQ/LCD, no CLO (collateralized loan obligation) deals were priced for the second consecutive week. YTD (year-to-date), CLO issuance stands at $830 million. In 2015, CLO deals worth $92.1 billion were struck through 176 deals.
Article continues below advertisement
Leveraged loan funds saw outflows
According to data from Lipper, leveraged loan funds saw an outflow in the week ending February 3. It's the fifth successive week in 2016. The quantum of outflows was $405.0 million last week—down from $784.0 million in the previous week. With the outflows last week, the total net outflows from leveraged loan funds stood at $2.9 billion up to February 3, 2016.
In comparison, high-yield bond funds recorded outflows of $41.0 million. Last week, equity funds recorded outflows of $6.5 billion, respectively. Equity funds witnessed outflows of $1.2 billion in the previous week.
Senior loans are tracked by mutual funds such as the Oppenheimer Senior Floating Rate Fund – Class A (OOSAX) and the Fidelity Advisor Floating Rate High Income Fund – Class A (FFRAX). Loans of Avaya (AV), Par Pharmaceuticals (PRX), and Neiman Marcus are among OOSAX's holdings. Meanwhile, loans of Hilton Worldwide Holdings (HLT), Albertsons (ABS) and Dell are among FFRAX's holdings.
Leverage loans issuance gained traction last week. SolarWinds (SWI), Manitowoc Foodservice—a division of The Manitowoc Company (MTW), Acadia Healthcare (ACHC), and Mattress Firm Holding (MFRM) issued leveraged loans last week. You can read more about primary market activity in leveraged loans in Part 5 of this series.
In the previous week, Staples (SPLS), NorthStar Asset Management Group (NSAM), and Stratose were some of the large leveraged loan issuers.
Returns on leveraged loans
Returns on leveraged loans rose in the week ending February 5. The S&P/LSTA U.S. Leveraged Loan 100 Index rose 0.1% from a week ago. The index fell by 0.4% YTD. Meanwhile, FFRAX provides exposure to senior loans. It fell 0.2% week-over-week. FFRAX has returned -1.3% YTD.
For more mutual funds analysis, please visit Market Realist's Mutual Funds page.