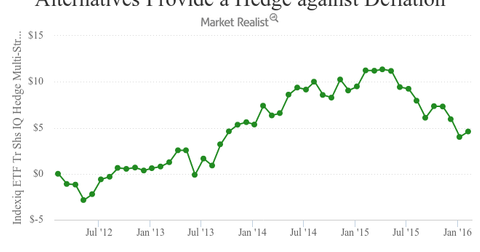 Letting Alternative Investments Hedge Your Returns against Deflation
By Surbhi Jain

Updated
Alternatives as hedges
An alternative investment is an investment in asset classes other than stocks, bonds, and cash. Alternative investments seek to provide a hedge against various market risks by following hedge-fund-like strategies.
Alternative investments include hedge funds, managed futures, real estate, commodities, and derivatives contracts, among others. They are mostly held by institutional investors or accredited, high-net-worth individuals. Alternative investments are sometimes used as a tool to reduce overall investment risk through diversification. In a deflationary environment, alternatives provide a good hedge against market uncertainties, as the stock and bond markets are the first to stand affected when volatility heightens.
[marketrealist-chart id=1034789]
US Trust president Keith Banks indicated in December, that he would like to keep 5%–15% of his portfolio in alternatives. To learn how alternatives effectively boost your returns, read "Alternatives Improve Your Portfolio's Risk-Adjusted Returns."
Article continues below advertisement
ETF investors
IndexIQ's IQ Hedge Multi-Strategy Tracker ETF (QAI) is perhaps the most popular ETF in the alternatives category. The fund's top five holdings included (as of December 30, 2015) the following ETFs:
Mutual fund investors
Smart investors also look at alternative mutual funds. Alternative funds have the liberty to invest in assets beyond traditional stocks, bonds, and cash used by traditional mutual funds. The AQR Managed Futures Strategy I (AQMIX) is an alternative mutual fund that invests in long and short positions across global equities, fixed income, currencies, and commodities. The fund uses the modern alternative hedge fund strategy of "managed futures" for investment purposes, and it returned 2% in 2015. For more on the fund, read Market Realist's series Investing in AQMIX: Everything Investors Need to Know.
AQR's two other funds, the Style Premia Alternative 1 (QSPIX) and the Multi-Strategy Alternative 1 (ASAIX), delivered returns to the tune of ~8.8% and ~9.3%, respectively, in 2015. These funds have gained on the back of their low-beta defensive exposure.
For further analysis, check out Market Realist's Mutual Funds page. In particular, our series What Is the Outlook for Europe-Focused Mutual Funds? may interest you.