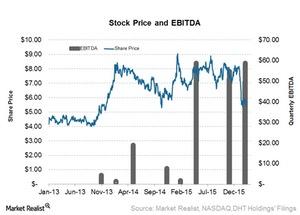 Key Highlights of DHT's Earnings and Conference Call
By Sue Goodridge

Updated
Revenues and EBITDA rose
DHT Holdings' (DHT) revenues rose to $94 million in 4Q15 from $92 million in the previous quarter. The company's EBITDA (earnings before interest, tax, depreciation, and amortization) also rose to $59.6 million from $54.8 million in the previous quarter.
2015 was one of the strongest years for the tanker industry. DHT's revenues rose by 143% to $365 million from 2014's revenues of $150 million. Along with robust tanker rates, 2015 also experienced low crude oil prices, which benefited tanker companies from the cost side as well. DHT saw a whopping 429% EBITDA growth in 2015.
Article continues below advertisement
Actual versus estimates
In the fourth quarter, DHT's revenues were 18% higher than Wall Street analysts' consensus estimate of $80.4 million. Its EBITDA was similar to the estimated $59 million.
In the last week, Euronav (EURN) released its fourth-quarter results. It also beat Wall Street analysts' consensus revenue estimate.
Stock price
DHT released its earnings on February 4, 2016, followed by a conference call the next day. On the day of the earnings release, the stock rose by 4%. The next day, after the conference call, the stock's price remained almost constant.
Crude tanker stocks have been quite volatile in February, and DHT Holdings' stock price as of February 8, 2016, fell 8% compared to its price at the start of the month. For the same period, the following were the returns for other crude tanker stocks:
Teekay Tankers (TNK) fell by 13%.
Tsakos Energy Navigation (TNP) fell by 11%.
Nordic American Tankers (NAT) fell by 5%.
Frontline (FRO) fell by 19%.
Euronav fell by 12%.
Investors who are interested in broad exposure to the industrials sector can invest in the SPDR Dow Jones Industrial Average ETF (DIA).
Series overview
In this series, we'll look at DHT Holdings' 4Q15 results and conference call highlights. We'll also analyze the company's current position, its management's plan for the future, and discussions between management and analysts. We'll also look at management's views on the outlook for the crude tanker industry.