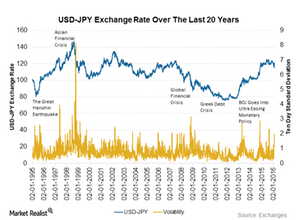 Japanese Yen: The Safe-Haven Currency for Decades
By David Meyer

Feb. 16 2016, Published 12:45 p.m. ET
Japanese yen: The safe-haven currency
Over the decades, the Japanese yen has earned investor confidence as the go-to safe-haven currency in case of crisis. Looking at the historical volatility in the Japanese yen over the last 20 years, the first major movement was the rapid appreciation of the Japanese yen, which took the US dollar–Japanese yen currency pair to 80 levels. This was largely due to the Great Hanshin earthquake that shook Japan on January 17, 1995.
The Asian financial crisis of 1997 was the biggest currency mover in the past 20 years. Japan, the largest Asian economy at that time, had huge investments through almost every Asian country. As a result, when the crisis started, the US dollar–Japanese yen currency pair rose above 140.
Article continues below advertisement
Global financial crisis and Greek debt
The global financial crisis and the Greek debt crisis once again portrayed the role of the Japanese yen as a safe-haven currency. Both of these events saw investors turn to the Japanese yen. While the global financial crisis originated in the United States, the Greek debt crisis had its roots in Europe. So the Japanese economy, which is not directly connected to these economies and itself had a stable economy, was looked at by investors as the safest bet. Some of the major Japanese ADRs (American depository receipts) include Sony (SNE), Toyota Motor (TM), and Honda Motor (HMC).
Ultra easing monetary policy
The Japanese government, after the reelection of Shinzō Abe, embarked on an extensive monetary easing. It resulted in the Japanese yen following a depreciating trajectory since 2013. In April 2013, the Bank of Japan announced its QE (quantitative easing) program in which they will buy close to 60 trillion yen worth of bonds. This was enhanced to 80 trillion yen in October 2014.
Some of the major Japan-related ETFs that reaped the early benefits of QE include the iShares MSCI Japan ETF (EWJ) and the WisdomTree Japan Hedged Equity ETF (DXJ).
In the last part of this series, we'll see why there's been high volatility in the Japanese yen over the past few months.