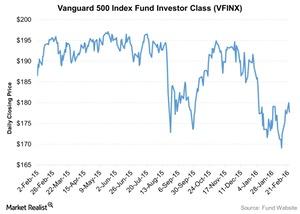 Why Iran Gave the Thumbs Down to the Oil Freeze Agreement
By Lynn Noah

Updated
US stock indexes rose
The three US equity indexes that we review in this weekly series rose from February 16 to February 23, 2016, as the stock market stabilized due to the rebound in oil prices.
Positive corporate earnings results also pushed equity markets up last week. The S&P 500 index, tracked by the Vanguard 500 Index Fund Investor Class (VFINX), was up by 1.4%. The Dow Jones Industrial Average (DJIA) rose 1.5%. Meanwhile, the NASDAQ rose 1.5%.
Article continues below advertisement
Thumbs down to oil freeze agreement
Iranian oil minister Bijan Namdar Zangeneh is of the opinion that the agreement between the Organization of the Petroleum Exporting Countries (or OPEC) and non-OPEC members to freeze oil production is "ridiculous" and won't help to push oil prices upward, as there is a large oversupply in the market.
Meanwhile, Saudi Arabian oil minister Ali al-Naimi believes that it would be better to put a ceiling on oil production rather than to cut it, because of a lack of trust among major oil producers. He said, "There is less trust than normal. Not many countries are going to deliver. Even if they say they will cut production, they will not deliver."
Economic indicators
US consumer confidence and existing home sales data were released on February 23, 2016.
Consumer confidence dropped to 92.2 in February, the lowest level since July 2015, from a revised figure of 97.8 in January. This was mainly due to stock market volatility coupled with global growth concerns. Meanwhile, existing home sales rose 0.4% month-over-month to 5.5 million units in January, the highest level since July 2015.
Article continues below advertisement
Minutes of FOMC January 26–27 meeting
On February 17, minutes from the Federal Open Market Committee (or FOMC) January 26–27 meeting were released. The minutes signaled a dovish outlook by the Federal Reserve in regards to raising interest rates. This dovishness came on the back of global financial uncertainty.
Earnings results and corporate news
Shares of Home Depot (HD) and Toll Brothers (TOL) rallied after the companies reported better-than-expected revenue figures. Shares of Macy's (M) rose after it not only reported better-than-expected earnings and revenue numbers, but also offered an upbeat earnings forecast for the current year.
Meanwhile, shares of Fitbit (FIT) fell after the company posted a weak outlook for the current quarter and the full year.
Junk bonds
Junk bond yields fell 40 basis points week-over-week and ended at 9.5% on February 19, 2016. Due to a fall in yields, returns of mutual funds investing in junk bonds such as the American Funds American High-Income Trust Class A (AHITX) and the T. Rowe Price High Yield Fund Advisor Class (PAHIX) rose in the week ended February 19.
This series will cover the developments in the primary and secondary markets for high-yield debt and leveraged loans. We'll begin with developments in the high-yield primary market issuance.