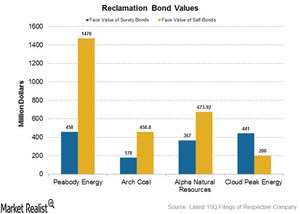 Key Coal Mining Laws that Investors Should Understand
By Sheldon Krieger

Feb. 9 2016, Published 3:06 p.m. ET
Surety bonds and self-bonds
Coal mining companies incur significant expenditure in complying with all applicable federal and local laws. Moreover, these laws require a coal mining company to execute surety bonds or self-bonds to guarantee performance or payment of certain long-term obligations like mine closure or reclamation.
Surety bonds are backed by collateral, whereas self-bonds are not backed by the executing company. The cost of surety bonds is usually a certain percentage of total bond value. Surety bonds can impact financial liquidity and increase interest costs for a coal mining company. Self-bonding depends on the financial strength of the executing company.
Recent bankruptcies in the coal mining industry raised concerns about accepting self-bonds by state governments. They also increased the compliance cost of executing reclamation bonds by mine operators.
Among Peabody Energy (BTU), Arch Coal (ACIIQ), Alpha Natural Resources (ANRZQ), and Cloud Peak Energy (CLD), the top four coal (KOL) mining companies in the US, Peabody Energy posted the highest amount in the form of both surety and self-bonds.
Article continues below advertisement
Laws and regulations
According to the National Mining Association (or NMA), there are more than three dozen laws and regulations governing all aspects of mining in the United States. The prominent federal laws that can have material impact on mining operations are as follows:
The Surface Mining Control and Reclamation Act of 1977 (or SMCRA)
The Federal Mine Safety and Health Act of 1977
Comprehensive Environmental Response, Compensation and Liability Act of 1980
Clean Air Act
Clean Water Act
Solid Waste Disposal Act
In addition to the above, there are state and local laws that take into account local conditions and certain issues unique to that region.
Applicability on tribal land
According to the Tribal Energy and Environment Information Clearinghouse (or TEEIC), state laws and regulations do not apply to coal mining on tribal lands.
How do recent developments in these laws and regulations impact coal mining? We'll discuss this in the upcoming part of this series.