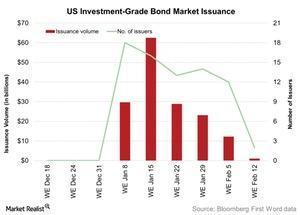 Why Did Investment-Grade Corporate Bond Issuance Tank Last Week?
By Lynn Noah

Updated
Deals and volumes of investment-grade corporate bonds
Investment-grade bond issuers stayed away from the primary market amid market volatility, soft credit conditions, and widening spreads. Investment-grade corporate bonds worth $1.0 billion were issued in the primary market in the week to February 12, 2016, the lowest year-to-date. This was lower as compared to bonds worth $12.2 billion in the previous week. The number of issuers went down to two from 12 in the previous week.
Last week, yields on investment-grade corporate bonds rose. And as a result, weekly returns of the T. Rowe Price New Income Fund (PRCIX) and the Janus Flexible Bond Fund – Class A (JDFAX) fell.
Article continues below advertisement
Issuance by quality and maturity
Fixed-rate issues formed 25% of the total issuance while floating-rate issues worth $0.75 billion were raised last week.
Looking at the credit ratings of issues, issuers with a AAA rating were the most prolific. They made up 75%, or $0.75 billion, of the total issuance. They were followed by issuers with a BBB rating, which formed 25% of the week's issuance.
In terms of maturity, the largest chunk of issuance, making up 75% of all issues, was in the five-year maturity category. The three-year and ten-year maturity category did not see any issuance last week.
Long-term maturity categories such as the 30-year category made up 25% of the total issuance while the over 30-year category and the perpetuals didn't see any issuance last week.
In the next part of the series, we'll highlight the pricing, credit rating, and yields of the major deals.