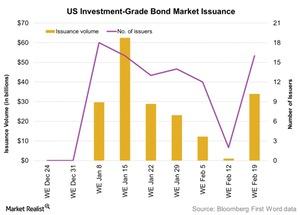 Investment-Grade Corporate Bond Issuance Gained Traction
By Lynn Noah

Updated
Deals and volumes
Investment-grade corporate bonds worth $34.0 billion were issued in the primary market in the week to February 19, 2016. This was higher compared to bonds worth $1.0 billion that were issued in the previous week. The number of issuers rose to 16 from two the previous week.
Last week, yields on investment-grade corporate bonds fell. As a result, the weekly returns of the T. Rowe Price New Income Fund (PRCIX) and the Janus Flexible Bond Fund – Class A (JDFAX) rose.
Article continues below advertisement
Issuance by quality and maturity
Fixed-rate issues formed 90.9% of the total issuance while floating-rate issues worth $3.1 billion were raised last week.
Looking at the credit ratings of issues, AA rated issuers were the most prolific. They accounted for 55.1%, or $18.8 billion, of the total issuance. They were followed by A rated issuers. They formed 29.6% of the week's issuance. BBB rated papers formed 15.3% of the total issuance.
In terms of maturity, the largest chunk of issuance was in the ten-year maturity category—23.7% of all the issues. It was followed by the three-year maturity category—21.6% of the total issuance. Last week, the five-year maturity category made up 20.0% of the total issuance.
Long-term maturity categories such as the 30-year category made up 21.0% of the total issuance. The greater than 30-year category didn't see any issuance for the sixth consecutive week. Meanwhile, perpetuals made didn't see any issuance for two consecutive weeks.
In the next part of the series, we'll highlight the major deals including pricing, credit rating, and yields.