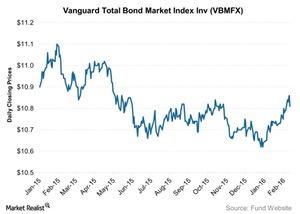 How Did Investment-Grade Bond Yields React to Yellen's Comments?
By Lynn Noah

Updated
Investment-grade bond yields
Investment-grade bond yields rose for the week ended February 12 after Janet Yellen, chair of the Federal Reserve, hinted that there could be a delay in the next rate hike due to the economic slowdown, financial volatility, and tumbling energy prices. However, she clarified that the possibility of rate hike remains open in 2016 but that there will be no negative interest rates for the US economy in spite of a recent slowdown in US growth.
Article continues below advertisement
Yellen's testimony
Janet Yellen's two-day testimony before the House Financial Services Committee during the "Semiannual Monetary Policy Report to Congress" ended on February 11. Yellen was of the opinion that the US economy is faced with higher interest costs for the riskier borrower, an appreciating dollar, and volatile equity markets. She said that although there is an improvement in wage growth, inflation is low due to falling oil prices. Also, uncertainty about China's exchange rate policy and the prospects for its economy adds to the turbulence in the US economy.
Advance retail sales and consumer confidence data
Advance retail sales and consumer confidence data came out on February 11. Advance retail sales were better than expected and rose 0.2% month-over-month in January as consumers spent on cars due to the fall in oil prices and the online purchase of goods.
Meanwhile, according to the University of Michigan, consumer confidence fell to 90.7 in February from 92.7 in January due to volatility in the stock market.
Yield movement
Corporate bond yields, as measured by the BofA Merrill Lynch US Corporate Master Effective Yield, ended at 3.7% on February 12, five basis points up from the previous week.
The Vanguard Total Bond Market Index Fund – Investor Class (VBMFX) provides broad exposure to US investment-grade bonds. The VBMFX invests in investment-grade corporate bonds of companies such as Apple (AAPL), Walmart (WMT), Bank of America (BAC), AT&T (T), and Oracle (ORCL). The VBMFX was up by 0.2% last week.
In this series, we will look at investment-grade corporate debt issuances for the week ended February 12 in detail. But first, let's take a look at how yields on corporate bonds have fared in 2016 so far.