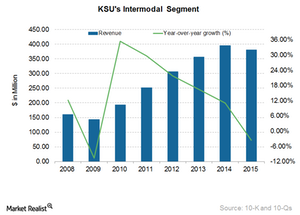 Introduction to Kansas City Southern's Intermodal Business
By Samuel Prince

Updated
What is intermodal?
Intermodal transport involves the movement of freight in an intermodal container using multiple transportation modes like rail, ship, and truck. It doesn't involve the handling of freight when modes are changed.
The freight's journey starts at a manufacturing facilities where containers are packed and loaded onto trucks or Kansas City Southern's (KSU) rail cars. The trucks stop at either KSU's intermodal terminals or private terminals.
Freight is transferred from trucks to KSU intermodal trains. The freight-in-containers' journey ends either at a river port, seaport, ocean port, or another intermodal facility. From this point, the containers are loaded on trucks or ships for their final destination.
The destination can be either world markets, a retail store, a manufacturing facility, or a warehouse. The company has access to nine seaports and seven river ports in the US. The Mexican subsidiary operates at four Gulf ports and ocean ports.
Article continues below advertisement
Kansas City Southern's intermodal business
Kansas City Southern (KSU) transports truck trailers or freight containers on behalf of intermodal marketing companies, trucking companies, and steamship lines. Here, KSU serves as a long-distance hauler.
Kansas City Southern caters to the US and Mexican markets and cross-border traffic between the US and Mexico through single-line intermodal services. The company also provides niche intermodal service to customers over its network from Dallas through the Meridian Speedway.
Intermodal ramps with terminal surface area
Following are the KSU's intermodal terminals in the United States:
Kendleton, Texas: 185 acres
International Freight Gateway, Kansas City, Missouri: 356 acres
Jackson, Mississippi: 47 acres
Laredo, Texas: 71 acres
Wylie, Texas: 362 acres
Kansas City Southern de Mexico's (or KCSM) intermodal terminals are:
Salinas Victoria (Monterrey, NL, Mexico): 196 acres
San Luis Potosi (or SLP): 238 acres
Puerta Mexico (Toluca, Mexico): 120 acres
Apart from this, KCSM has access to 17 private intermodal ramps in Mexico. KSU's major intermodal connections include:
C.H. Robinson Worldwide
CSAV
Maersk Line
J.B.Hunt
Yusen Logistics
UPDS
Pacer
APL
Hub Group
APL Logistics
Werner Enterprises
CMA CGM
CN Worldwide
Hamburg SUD
Article continues below advertisement
Competition and market share
Kansas City Southern's intermodal business competes with major Western operators like BNSF Railway (BRK.B) and Union Pacific (UNP). US trucking companies like Holland, Southeastern Freight Lines, and UPS Freight compete with KSU's US subsidiary. Whereas, the Mexican subsidiary competes with Convoy Logistics, Landstar, Trinity Logistics, and ByExpress Logistics.
KSU has ~2% intermodal market share in Mexico. In 2015, KSU lost a slight share in Mexico due to strong competition with trucking companies.
It is also true with KSU's Eastern counterparts like Norfolk Southern (NSC) and CSX (CSX). Both companies lost some intermodal business to trucking companies and reduced highway-to-rail conversions. The iShares Russell Mid-Cap Value ETF (IWS) invests 0.32% in KSU. However, if you wish to go for broad-based sector exposure, the Vanguard Dividend Appreciation ETF (VIG) holds 1.18% in the peer group, excluding KSU.