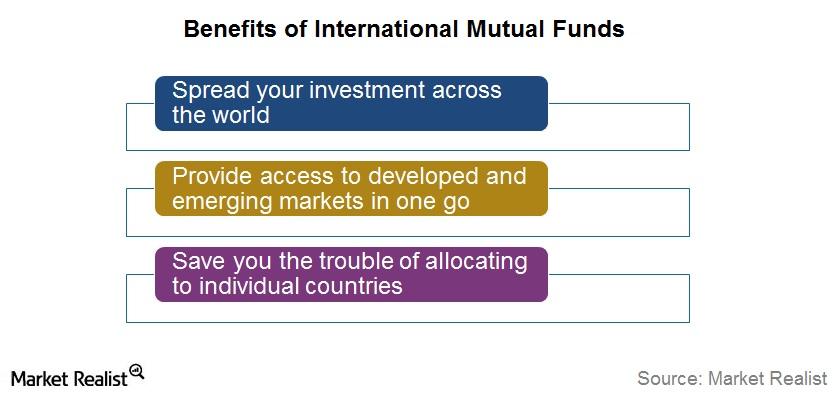 Were International Mutual Funds Beneficial over the Last Year?
By David Ashworth

Feb. 16 2016, Published 5:15 p.m. ET
Diversification through international mutual funds
International mutual funds (DISAX) (HLMNX), funds that invest across non-US geographies, are the most convenient way to spread your investment across companies in all major economies. They save you the worry of researching geographies and thinking about the quantum of the investment that should be allocated to those geographies.
In one investment, you get an opportunity to ride the growth path of the US economy, to invest in Japanese stocks that did great in 2015, and be part of the growth story of China and India (though not so much the former, recently). You can have access to large corporations from different parts of the world, such as Sony (SNE), General Motors (GM), and HSBC Holdings (HSBC), among several others. This appears to be a great opportunity.
Article continues below advertisement
So, what's the catch?
The catch to investing in international mutual funds is two-fold.
You don't have control over geographic allocation. For instance, if your fund manager invests some part of the portfolio in Brazil and is not able to reallocate those holdings, that part of the portfolio drags on the rest of the fund.
Your investment will rarely be the best performing, because your money is invested across financial markets. The ones gaining will, most of the time, see their hard work being undone by the ones that fall. For instance, if the majority of your international exposure was in Japanese equities last year, this would have outpaced returns from all other geographies.
The latter point is where the foresight and competence of your fund manager can make a difference to your portfolio. An astute manager is able to adjust to changing circumstances quickly, and during bad times, save you losses. Meanwhile, during good times, he'll maneuver to ensure that the allocation gets diverted quickly to make the most of the growth story.
In this series…
We'll lay out the quantitative performance of nine international mutual funds in 2015 as well as the one-year period ended January 2016. We'll look at some quantitative performance indicators, and, at the end of the series, try to give you a sense of what you can do with these funds for the remainder of this year. Let's begin this series by looking at the American Funds EuroPacific Growth Fund – Class A (AEPGX).