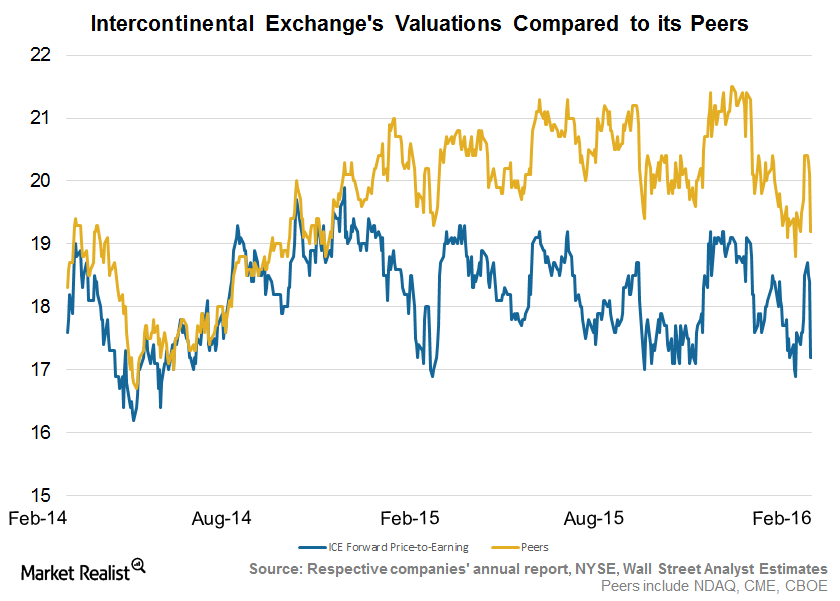 Intercontinental Exchange Returned $991 Million to Shareholders
By Robert Karr

Aug. 18 2020, Updated 6:30 a.m. ET
Dividend and repurchases
Intercontinental Exchange (ICE) uses capital appreciation, dividends, and stock repurchases to return value to investors. The company returned $991 million to shareholders in 2015. This was comprised of approximately $331 million in dividends and $660 million in share repurchases. ICE also approved a 15% increase in its cash dividend to $0.75 per share compared to the prior year quarter. This translates into a dividend yield of 1.2% per year in comparison to the following yields of its peers:
Together, these companies form 24.6% of the iShares US Broker-Dealers (IAI).
ICE repurchased its own shares worth $83 million in the fourth quarter.
Article continues below advertisement
Valuations
Intercontinental Exchange (ICE) stock has been historically valued at par compared to its peers. However, over the past few quarters, valuations for ICE's peers have decreased. ICE is currently valued at 17.2x on a one-year forward price-to-earnings basis. Its peers trade at an average of 19.2x.
The company's valuation has declined due to saturating growth in daily energy volumes and increased leverage for acquisitions, partially offset by increasing data service revenues and interest rate contracts.
Outlook for 2016
ICE expects first quarter and full year 2016 adjusted operating expenses, excluding amortization of acquisition-related intangibles, of $490–$500 million and $2.0–$2.03 billion, respectively.
Full year operating expense guidance includes ~$50 million in NYSE (New York Stock Exchange), ~$25 million in Interactive Data expense synergies, ~$45 million largely related to additional compensation, and ~$30 million in product and technology investments. The company expects interest expense in 1Q16 to be $45 million. For the remainder of the year, ICE expects interest expense to be $44–$45 million per quarter.