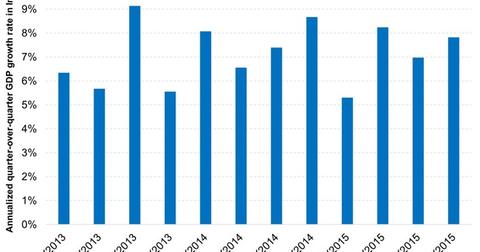 Why India Is Primed for an Economic Revolution
By Rick Rieder

Updated
So what does this all mean for your portfolio? I don't mean to imply that you should give up hope of achieving a decent return in 2016 and run for the sidelines. Rather, taking a closer look at how the return landscape is likely to shape up this year, and for years to come, shows that it's more important than ever to be selective as you take risk in search of returns. In fact, I believe there will be pockets of attractive returns; we just all need to sharpen our focus on which assets will perform, and more specifically, which geographies or sectors within these asset classes will perform.
Article continues below advertisement
Market Realist – India is primed for an economic revolution.
As we mentioned in the previous parts of this series, returns will be difficult to come by in 2016. While global growth is slowing down, the Indian economy seems to be chugging along.
The Indian economy expanded 7.3% year-over-year in the last three months of 2015, slowing from an upwardly revised 7.7 % growth in the previous quarter. But it was in line with market expectations. The economy grew 7.8% annualized on a quarter-over-quarter basis and is now the fastest-growing major economy. However, economists are questioning the new method of measurement.
While lower oil and commodity prices are a disadvantage for other emerging economies (EEM)(VWO), like Brazil and Russia, they're a big advantage for India (INDA)(EPI). Oil accounts for a massive 70% of India's import bill. So low oil prices help India's current account position. Also, they help cut India's subsidies, which in turn could help fuel much-needed infrastructure projects.
India's gross domestic product base remains low compared to the rest of the world. India's GDP per capita stands at $1,263 compared to China's $3,866 and $46,405 for the United States. This means India has a huge runway for improvement. Also, India's median age is 27 years, which means millions of Indians will be heading into their prime earning years.
Finally, with investors skeptical about growth in China (ASHR)(MCHI), they could turn their attention to India. The Indian rupee has been historically stabler versus the US dollar than some other emerging market currencies.