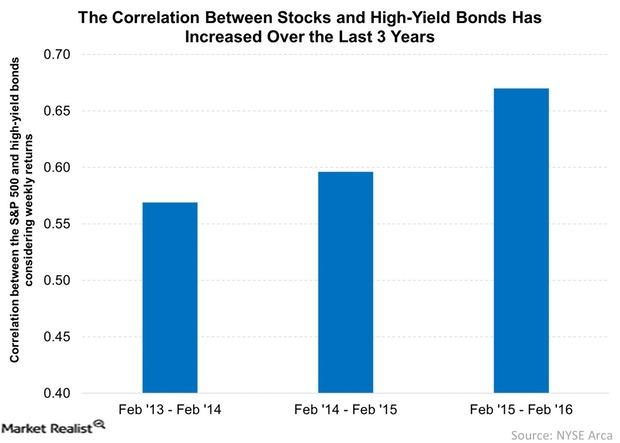 Why Higher Correlations Between Risky Assets Don't Bode Well
To put the recent volatility in context, it's worth taking a look back. After the bull market kicked off six years ago, as investors searched for yield amid low interest rates, they increasingly turned toward fixed income credit sectors, such as high yield, investment grade and emerging market debt. These moves were justified given persistent low yields and the fact that these sectors tend to perform well amid economic improvement. However, these trends also created several imbalances. First, it drove up the valuations on many traditional equity dividend plays. Second, increasing credit exposure increases the risk of an entire portfolio due to the greater correlations between equity and credit.
Taking on such risk may be understandable when markets are only moving up, but in a volatile environment like the one we're in today, having a portfolio of assets that tend to move together can leave investments especially vulnerable.
Article continues below advertisement
Market Realist – Increasing correlations between risky assets could leave your portfolio vulnerable.
The Fed's QE (quantitative easing) program, through which the Fed aggressively bought Treasuries (TLT), caused Treasury yields to fall to very low levels. This change made investors look elsewhere for yield. Also, the excess liquidity caused by the program meant that funds were easily accessible. So investors flocked to risky assets like high-yield bonds and equities. This effect, in turn, led to much lower yields on high-yield bonds. Finally, investors resorted to high dividend–yielding equities, driving up their valuations as well.
The graph above shows the correlation between the S&P 500 index (VOO)(IVV) and high-yield bonds (HYG)(JNK) over the last three years. Remember: both these assets perform well during economic upturns and underperform during downturns. So there's typically been a high positive correlation between the two. However, the correlation has been increasing over the last three years, as the graph above shows. The correlation over the last 12 months has been +0.67, compared to +0.57 a couple of years back.
Around 15% of total US high-yield bond issuers belong to the energy sector. So the drastic fall in oil prices has increased the possibility of default. High-yield bonds have been one of the worst-performing sectors this year as a result. Meanwhile, as we mentioned in the first part of this series, there's been an increased correlation between equities and oil (USO) prices. This higher correlation is one reason for the increased correlation between equities and high-yield bonds.
Another important consideration is that, during bear markets, when you most need correlations to fall, correlations between high-yield bonds and equities tend to rise, increasing overall portfolio risk.