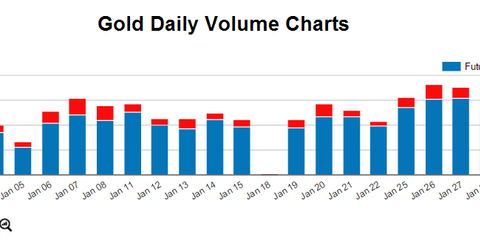 High Gold Prices Drive Inventories on COMEX Down
By Meera Shawn

Updated
Gold volumes high
As gold prices continued to rise as of February 1, 2016, demand for gold surged. The price of gold rose by almost 1% on February 1 and settled at $1,128 per ounce. More and more, investors flooded the precious metal on haven calls due to the unrest in financial markets in China, which has affected the worldwide financial markets.
January alone witnessed a rise of 5.3% in gold futures prices. Meanwhile, gold-based funds like the SPDR Gold Shares (GLD) and iShares Gold Trust (IAU) have increased by 6.5% and 6.7%, respectively, so far in the current 2016 year. Mining-based companies that have seen upward movements so far include Primero Mining Corporation (PPP), Agnico-Eagle Mines (AEM), and Randgold Resources (GOLD).
Article continues below advertisement
Gold inventories slip
The soaring demand for gold drove gold inventories down visibly in a few depository vaults. The above graph shows the daily volume chart for gold over the past trading month. The active movement in the registered category of gold in the vaults, as seen on January 25, showed a ~73% decline.
The two basic categories of physical gold stored in vaults include eligible and registered. Eligible stores are the type of gold that should meet an exchange's purity and size requirements, and the refined quality must be approved by an exchange-approved refiner for eligible stores. The registered category includes metals that meet the same criteria as eligible but that are available for the contract settlement of futures traded on COMEX.
Weight in gold
As of February 1, registered gold inventories on the COMEX have seen a change of a whopping 73% or 201,345 ounces out of a total 275,325 of the registered gold transferred to the eligible category. A total of 21,200 ounces was transferred from Brinks Registered Inventories, in addition to 84,881 ounces of HSBC, and 95,269 ounces from Scotia-Mocatta. In total, the COMEX registered category of gold inventory was down to 73,980 ounces as of February 1.
Now let's look at China's most recent role in precious metals.