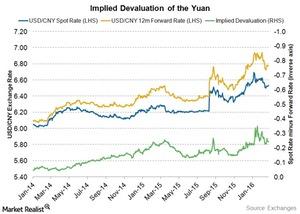 How Hedge Fund Managers Are Seeking Their Soros Moments
By Surbhi Jain

Updated
The Soros moment
The Soros moment refers to that moment in history when George Soros made a billion dollars by betting on the devaluation of the British pound. On Wall Street, it's easily associated with any such money-spinning bet against a currency.
Back in the nineties, Soros massively shorted the British pound. In 1992, when the pound was forced to exit the European Exchange Rate Mechanism (or ERM), after which its value fell extraordinarily, Soros walked away with $1 billion on his trade, leaving the Bank of England broke. This is, to date, referred to as the Soros moment.
Article continues below advertisement
Hedge fund managers seeking their Soros moments
Currently, China (FXI) (YINN) (ASHR) seems to be offering such a moment to investors. We're increasingly seeing hedge funds betting against the Chinese yuan.
We've been seeing the yuan depreciating since August 2015. Over the past year, the currency has fallen by about 6% against the US dollar (UUP). The yuan currently fluctuates between +2% and -2% of the daily reference rate set by the People's Bank of China. It is at around 6.6 currently.
Bank of America (BAC) strategists predict that the yuan could further depreciate to a 6.9 level by the end of 2016. Analysts at Bloomberg estimate a slump of 2.8% by year-end 2016 and a 33% chance (as per the options market) that the yuan will weaken to 7.
Only time will tell how weak the currency will get. Meanwhile, hedge fund managers in the United States (SPY) and abroad are busy shorting the yuan, seeking their own Soros moments!