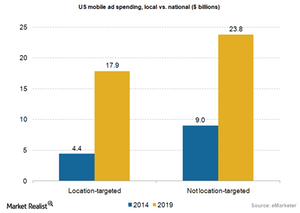 How Are Google's Local Inventory Ads Helping Retailers?
By Puneet Sikka

Dec. 4 2020, Updated 10:52 a.m. ET
Local inventory ads are a win-win for Google, consumers, and retailers
In the previous part of the series, we discussed how Google's (GOOG) mobile business got a boost during last year's holiday season from users starting to make purchases from mobile devices. We also discussed how online retailers have started to advertise on the Google search platform in the form of product listing ads. Another form of ads that appeal to the traditional brick-and-mortar retailers are local inventory ads.
Article continues below advertisement
Local inventory ads provide users with real-time information on their mobile devices. The ads provide information about the products that are in stock in a local store close to their locations. According to Google, major retailers such as Macy's (M), Lowe's (LOW), and Target (TGT) are finding these ads useful. Google mentioned that these retailers "can measure the foot traffic that their search ads drove." Google specifically mentioned Target, which "reported millions of incremental store visits in the week leading up to Christmas."
Seeing the success of local inventory ads, Google has expanded them to all major economies outside the United States, including the United Kingdom (EWU), France, Germany, Japan, and Australia. These ads are a win-win situation for Google, consumers, and retailers. Google earns ad revenue from them, consumers benefit from access to local information, and retailers benefit from increased business as more consumers visit their stores.
Local mobile ad spending poised for strong growth
According to a report from eMarketer, citing research by Harris Poll for Placecast, US smartphone owners ranked the ability to search for a retail location nearby using apps as the third most popular activity after text messaging and Internet access.
The eMarketer report also mentioned that the local inventory ads business is poised for fast growth. The above bar graph shows that US location-targeted ad spending could grow from $4.4 billion in 2014 to $17.9 billion in 2019 at a CAGR (compounded annual growth rate) of 33%.
During the same time period, spending that isn't location-targeted could increase from $9.0 billion to $23.8 billion at a CAGR of 21%. This shows that the local inventory ads business has huge growth potential, and Google should benefit from this trend.