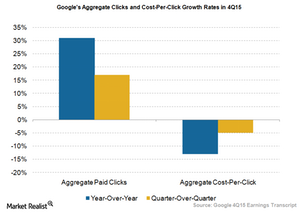 Why Google Has Blamed YouTube for Falling Ad Rates
By Puneet Sikka

Updated
YouTube's TrueView ads are monetized at a lower rate than Google Search ads
In the previous part of this series, we discussed how Google's (GOOG) YouTube continues to make rapid strides in the video ad market.
However, despite the fast-paced growth in YouTube's revenues, the ad rates (or cost-per-click) associated with YouTube continue to be less than the ad rates for Google. Google maintains that YouTube's TrueView ads are mainly responsible for falling ad rates.
TrueView ads are in-stream ads where an advertiser's video ad plays automatically before the start of a YouTube video. The viewer can skip this type of ad after viewing it for five seconds. If a viewer skips an ad before viewing it for 30 seconds or before the end of the ad, the advertisers don't have to pay anything.
Article continues below advertisement
Google has said in the past that TrueView ads are becoming more popular, and the majority of users are deciding not to skip them. This is helping Google increase clicks and views. However, TrueView ads are monetized at a lower rate than Google search ads, and this is the main reason that overall ad rates are falling, as shown in the chart above.
Location-based technology pushes ad sales
Although TrueView ads have played a part in falling ad rates, improving ad technology is somewhat offsetting this fall. Google has improved its location-based mobile technology, which has led to better conversion rates for retailers and thus better ad rates. These ads provide users with real-time information on their mobile devices.
The ads provide information about products that are in stock at local stores close to users' locations. According to Google, major retailers such as Macy's (M), Lowe's (LOW), and Target (TGT) are finding these ads useful. Google mentioned that these retailers "can measure the foot traffic that their search ads drove." Google specifically mentioned Target, which "reported millions of incremental store visits in the week leading up to Christmas."
Seeing the success of local inventory ads, Google has expanded them to all major economies outside the United States, including the United Kingdom, France, Germany (EWG), Japan, and Australia.
In the next article, we'll take a look at why retailers have started to increase their advertising spending on YouTube.