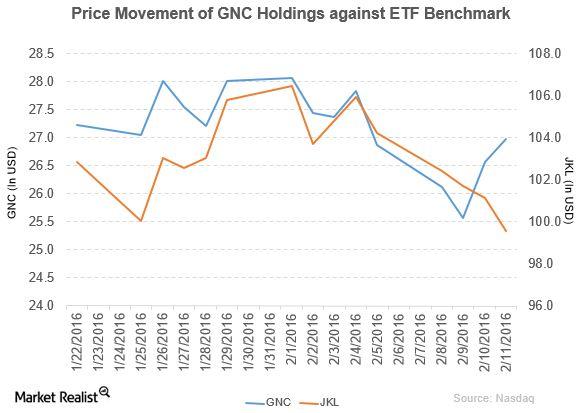 GNC Holdings Reports Mixed 4Q15 Results: Where to This Year?
By Gabriel Kane

Aug. 18 2020, Updated 5:25 a.m. ET
Price movement of GNC Holdings
GNC Holdings (GNC) has a market cap of $2.2 billion. GNC rose by 1.6% to close at $26.98 per share on February 11, 2016. The price movement on a weekly, monthly, and YTD (year-to-date) basis is -3.1%, -15.2%, and -13.0%, respectively.
At times, the stock has broken the support of all moving day averages. Currently, GNC is trading 0.53% above its 20-day moving average, 8.1% below its 50-day moving average, and 30.8% below its 200-day moving average.
Article continues below advertisement
The iShares Morningstar Small Value ETF (JKL) invests 0.55% of its holdings in GNC Holdings. The ETF tracks a market-cap-weighted index of US small-cap value stocks. The index stocks from the 90th to the 97th percentile of the market-cap spectrum, using fundamental factors. The YTD price movement of JKL was -11.4% as of February 11, 2016. The SPDR S&P Retail ETF (XRT) invests 1.1% of its holdings in GNC. The market cap of GNC Holdings' competitors are as follows:
Performance of GNC Holdings in fiscal 4Q15 and fiscal 2015
GNC Holdings reported fiscal 4Q15 revenue of $618.2 million, a rise of 1.8% above the $607.2 million from fiscal 4Q14. The revenue of the retail and manufacturing/wholesale segments rose by 1.8% and 7.2%, respectively, and the revenue of the franchise segment fell by 1.0% in fiscal 4Q15 from fiscal 4Q14.
The company's net income and EPS (earnings per share) fell to $42.9 million and $0.54, respectively, in fiscal 4Q15, compared with $51.8 million and $0.58, respectively, in fiscal 4Q14. Its adjusted EPS rose to $0.63 in fiscal 4Q15, a rise of 3.3% from fiscal 4Q14.
During fiscal 4Q15, it repurchased 6.4 million shares of its common stock at an average price of $31.24 per share to complete the target of a $200 million share repurchase.
Article continues below advertisement
Fiscal 2015 results
In fiscal 2015. GNC reported revenue of $2.7 billion, a rise of 0.99% YoY (year-over-year). It opened 97 company-owned stores, 14 franchised domestic stores, and 58 stores-within-stores in 2015. The company reported long-lived asset impairments of $28.3 million in fiscal 2015. Its net income and EPS fell to $219.3 million and $2.60, respectively, in fiscal 2015, compared with $255.9 million and $2.81, respectively, in fiscal 2014.
Meanwhile, its cash and cash equivalents and inventory fell by 57.8% and 2.3%, respectively, in fiscal 2015. Its current ratio fell to 2.9 and debt-to-equity ratio rose to 4.4 in fiscal 2015, compared with a current ratio and a debt-to-equity ratio of 3.6 and 2.5, respectively, in fiscal 2014. It reported a free cash flow of $308.9 million in fiscal 2015, a rise of 31.6% YoY. During fiscal 2015, the company repurchased 12.4 million shares (~$480 million) of its common stock at an average price of $38.65 per share.
Projection
The company has made the following projections for fiscal 2016:
EPS in the range of ~$3.15 to $3.35, excluding the positive impact from corporate to franchise store conversions to enhance comparability with prior periods
a tax rate of ~36%.
share repurchases throughout the year of ~6% to 8% of the 76.3 million shares outstanding from the beginning of the year
capital expenditures of ~$75 million, including ~$20 million for key initiatives
domestic company-owned same-store sales growth will rise from flat to 1.5%
~125 new stores in the US and Canada, ~50 new stores in international franchise locations, and ~50 new GNC-Rite Aid stores-within-stores
1,000 stores converted to build a balanced portfolio of domestic company-owned and franchise locations over the next three to four years, with 200 locations converted from company-owned to franchise locations in 2016
In the next article, we'll perform an in-depth analysis of GNC Holdings' segments in fiscal 4Q15.