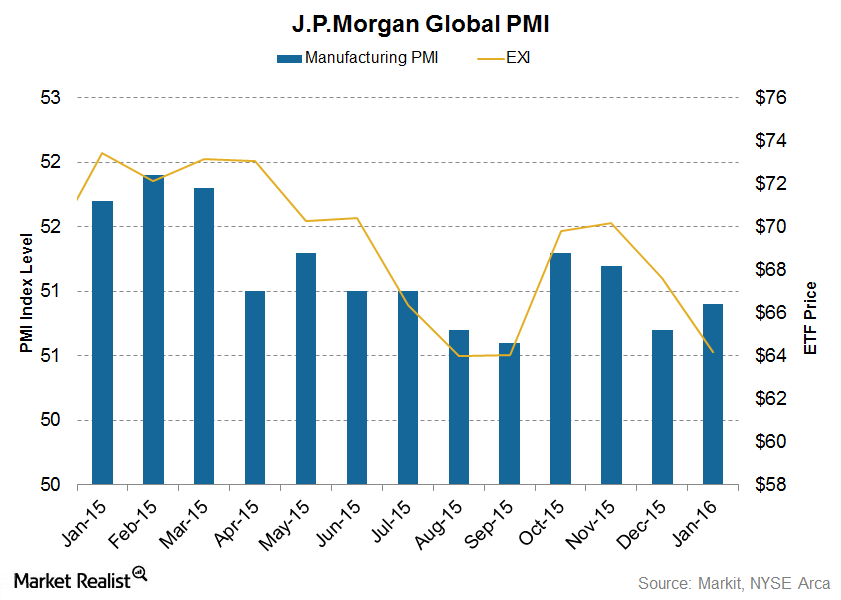 Global Manufacturing Activity Remained Subdued in January 2016
Global manufacturing PMI fell to 50.9 in January
According to JPMorgan Chase and Markit, the global manufacturing PMI (purchasing managers' index) rose slightly to 50.9 in January 2016, compared to 50.7 in December 2015.
Global manufacturing remained subdued in January. As a result, the MSCI All-Country World Index ETF (ACWI) and the iShares Global Industrials ETF (EXI) fell 3.8% and 3.6%, respectively, over the past month as of February 1. General Motors Company (GM), ExxonMobil (XOM), General Electric Company (GE), and Pfizer (PFE) fell 9.6%, 1.5%, 6.7%, and 5.6%, respectively, over the same period.
Article continues below advertisement
Developed nations helped global manufacturing PMI to expand in January
Developed economies helped the global manufacturing PMI to stay in the expansionary phase for 32 consecutive months.
Among the developed nations, the United States and the United Kingdom saw rises after recording lows in December 2015. Japan and the Eurozone continued to expand at a moderate rate in January 2016.
Emerging economy continued contraction in January
The three main emerging economies—Brazil, Russia, and China—contracted in January. India moved back into an expansionary phase in January.
Canada, South Korea, Indonesia, and Malaysia saw the deterioration of operating conditions in January. Improvements were seen in Poland, the Czech Republic, Taiwan, Turkey, and Vietnam.
Article continues below advertisement
Employment grew modestly in January
January saw new orders increasing despite a poor showing on the export orders front. Also, employment rose at a modest pace in January. An increase in jobs was reported in the United States, Japan, India, the Eurozone, Taiwan, Turkey, and Malaysia. Nations that reported job losses were China, the United Kingdom, Russia, Brazil, and South Korea.
Input cost and selling prices both fall in January
Falls in the prices of crude and industrial commodities kept input and output costs lower in January 2016. However, output costs fell to a lesser extent than in the prior month.
Global manufacturing remained subdued in January. Though new orders and employment are rising, the rise must be supported by export orders to continue with the upturn. In the next article, let's see how manufacturing is shaping up in the United States.