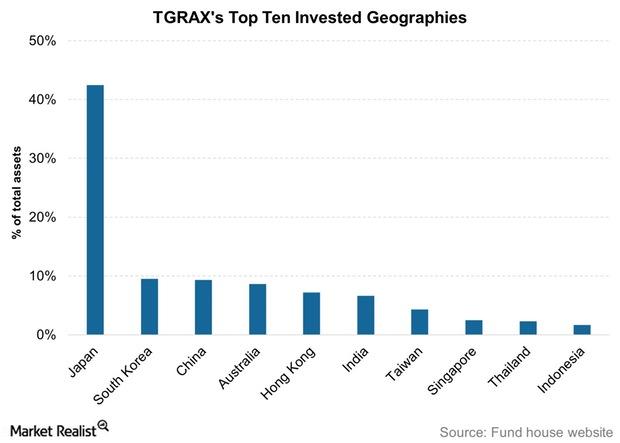 Get Your Essentials on the Invesco Pacific Growth Fund (TGRAX)
By David Ashworth

Feb. 11 2016, Published 5:24 p.m. ET
Invesco Pacific Growth Fund (TGRAX)
The Invesco Pacific Growth Fund (TGRAX), under normal circumstances, will invest "at least 80% of its net assets in securities of issuers in the Pacific region, and in other instruments that have economic characteristics similar to such securities." The fund invests in common and preferred stocks as well as in depository receipts.The fund is managed by Paul Chan and Daiji Ozawa.
The fund is managed by Paul Chan and Daiji Ozawa, who look for securities that have potential for earnings or revenue growth. Although the fund can invest across market caps, the fund's literature states that it "may invest a significant amount of its net assets in the securities of small- and mid-capitalization issuers." Though the fund has not hedged its foreign currency exposure, it may do so if deemed suitable by managers.
Article continues below advertisement
Portfolio composition
TGRAX's house data shows that industrials is the largest sectoral holding of the fund, making up 20.1% of the portfolio as of December 2015. Financials and information technology follow, representing a combined 31.7% of the fund's assets. Consumer discretionary and consumer staples round off the fund's top five invested sectors.
Interestingly, the fund's sectoral composition is unlike a lot of its peers in this review in that there's not a very wide gap in sectoral allocation among TGRAX's top five sectors.
Japan has the largest share—again
Looking at the geographical composition, Japanese equities have the largest share of portfolio assets, with a weight of 42.5%. South Korea and China have near similar quantum of exposure and form a combined 18.8% of the fund's assets. Australia and Hong Kong complete the top five invested geographies.
Tencent Holdings (TCEHY), Westpac Banking (WBK), Astellas Pharma (ALPMY), CNOOC (CEO), and China Mobile (CHL) were among the fund's 55 holdings as of the end of December. As of January 2016, the fund was managing assets worth nearly $76.1 million.
Fee and minimums
The Invesco Pacific Growth Fund Class A (TGRAX) has been around since July 1997 and has a net expense ratio of nearly 1.8%. The fund requires a minimum of $1,000 to invest, with $50 as the minimum additional investment. The fund can levy a maximum sales charge of 5.5% of offering price on Class A shares.
Now let's look at some key metrics. How has TGRAX been performing? Keep reading to find out.